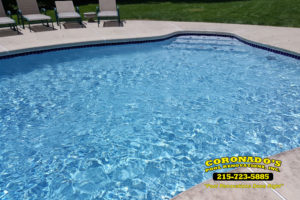 When investing in commercial swimming pool plaster, choosing one of Coronado's select styles with a 10-year warranty is a smart option. For pools that see a lot of use, a 10-year warranty can't be beat! Coronado's is happy to offer a selection of beautiful and tough plaster brands that are built to last. Consider updating your commercial pool's plaster today to add the wow factor and appeal that outdated pools in need of repair are missing.
Quality Commercial Swimming Pool Plaster for Monmouth County
It's important to choose a quality brand when it comes to swimming pool plaster; this is especially true for commercial pools that may receive a higher volume of swimmers than residential pools. Opting for a tough finish will prove to hold up better to high traffic, as these plasters are designed to stand the test of time. Coronado's offers a 10-year warranty on the following types of pool plaster:
Diamond Brite: An attractive finish that includes natural quartz aggregates, Diamond Brite adds a dazzling sparkle and shine to swimming pools. This finish offers a smooth yet still slip-resistant surface for swimming pools.
Durazzo: A very versatile finish, Durazzo is a marble-based finish that is available for customization and perfect for complementing any pool style. With so many different color combinations possible, there's a Durazzo look for every and any taste and preference.
River Rok: Composed of a unique mixture of cement and smooth, tumbled pebbles, this plaster is extra resilient. River Rok is perfect for creating a natural stone look for swimming pool areas.
Each of these types of pool plaster is as sturdy as it is beautiful. Great for any type of commercial or residential pool, a 10-year warranty is a fail-proof way to protect your new plaster finish. We also offer a number of other fine finishes that offer different color possibilities and styles. The pool plaster team at Coronado's is ready to expertly install the finish of your choice at your convenience!
Coronado's: Commercial Swimming Pool Plaster Pros
Coronado's Pool Renovations are experts in the application of commercial swimming pool plaster. We're certified to complete pool renovation projects in Monmouth County and elsewhere across the states of PA and NJ. For a highly rated, friendly and professional pool contractor, look no further than Coronado's. Get in touch today to see how we can help refresh your commercial pool and get a free quote!
Contact Information:
Phone: (215) 723-5885
Email: jje@coronadospoolplaster.com