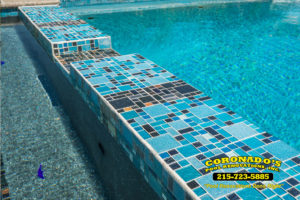 Coronado's Pool Renovations is proud to provide the best service in pool design. Our exceptional service as a swimming pool contractor serving Atlantic County and other counties across New Jersey and Pennsylvania is proven by many of the 5-star reviews written by satisfied clients.
Coronado's Recent Glowing Reviews
Positive reviews of Coronado's services keep rolling in, such as this new review from Alex B.:
"I recently contracted Coronado's Pool Renovations to have my pool replastered after years of neglect. It is by far the best experience I have had with a pool contractor so far. Everyone from the office staff [to] the onsite workers were the most professional staff I have come across. The craftsmanship of the work done was very impressive. All the tile installation and finishes such as tile cutting and grouting were exceptional. The small attentions to details is what has made my newly renovated pool the envy of my neighbors. I would highly recommend this company to others."
Here's what Dana R. had to say:
"Coronado pools workmanship was outstanding. They had a very professional delivery and showed all the pictures of what my pool could look like through my TV. They followed through and were on time with the work schedule and if there was a delay due to weather they kept me informed. My backyard pool now looks like a resort and has transformed the look and feel. Thank you!!"
Another recent 5-star review from John B. reads:
"Edgar and his crew did a very nice job of renovating our 30-year-old pool. Everyone was very professional and left the site each day in good shape. The cost and schedule and finished product made it a successful project."
Positive feedback like these two recent reviews and many others help prove that Coronado's is one of the best swimming pool contractors in the business. We take great care to provide complete customer satisfaction with every job we take on. No job is too big or too small for Coronado's; we pay close attention to detail on every job we complete and make sure to get the job done right the first time.
Coronado's: Atlantic County Pool Makeover Professionals
From our exceptional attention to detail to our professionalism during every interaction, Coronado's staff aims to provide the best in pool renovations. We offer a complete line of pool renovation services, including coping installation, pool refinishing, pool repair, acid washes, and more!
Call or email us to discuss ways to bring new life to your pool. We'd love to discuss your pool renovation options and schedule your free consultation today!
Contact Information:
Phone: (215) 723-5885
Email: jje@coronadospoolplaster.com