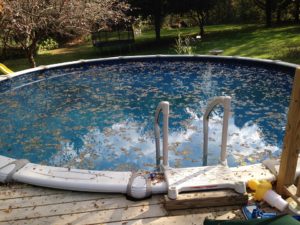 While you prepare to close your swimming pool for the season, there are many tasks to perform. You will want to make sure your pool is properly cleaned and drained before placing the cover and forgetting about the pool until summer approaches again. One step you may want to consider before placing your cover, especially if your pool already shows signs of algae buildup, is to acid wash swimming pool surface. An acid wash will give a pool a deep clean that completely kills algae that could be growing inside the plaster of your pool.
Why Acid Wash Swimming Pool Surface?
It's a good idea to choose an acid wash for your swimming pool's surface to keep your pool thoroughly clean, removing algae and other discolorations to restore the beauty of your pool. Reasons to consider an acid wash include:
100% Safe & Clean: Coronado's acid wash process doesn't involve the use of any toxic chemicals. This means the pool itself, as well as any plants and landscaping surrounding your pool, will remain totally safe both during the process and after the acid wash is complete. The acid wash is also nearly odorless.
Quick Process: Acid washes are routine and aren't time consuming. The short process time makes acid washes convenient and easy to fit into your busy schedule.
Keep Your Pool Beautiful: Keeping your pool bright and clean is an easy way to make sure it looks its best. A clean pool is a beautiful pool!
Now is the perfect time to schedule your acid wash to prevent further algae buildup while your pool is dormant during the off season. However, due to the quick process time and nontoxic chemical usage, virtually any time is a great time for a deep pool cleaning.
Coronado's: Pros Who Acid Wash Swimming Pool Surface
Coronado's Pool Renovations are trusted pool professionals with lots of experience performing acid washes on swimming pools. Our services are available in Ocean County as well as all other counties across the states of Pennsylvania and New Jersey. We're certified members of the National Plasters Council as well as longtime members of the Association of Pool & Spa Professionals, guaranteed to increase the beauty and safety of your residential or commercial swimming pool.
When looking to hire a pool renovation company in your area, a family-owned business like Coronado's is your best bet. We're a top-rated local company with the rave reviews to prove our commitment to fine service. Contact us today to discuss our acid wash process and inquire about our many other pool-related services.
Contact Information:
Phone: (215) 723-5885
Email: jje@coronadospoolplaster.com