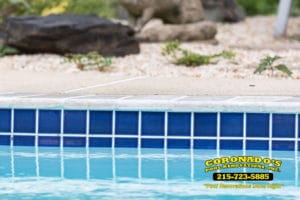 The term tile and coping may not stick out in your mind, but it is actually a crucial component of the swimming pool renovation process. Choosing new tile and coping is a great way to completely change the look of your pool—giving it a fresh, modern appearance. The team at Coronado's Pool Renovations is highly trained and experienced at removing, replacing, and installing pool tile and coping. In this blog, we break down the process and explain different options you have when it comes to choosing tile and coping for your pool.
Tile & Coping Options for Your Atlantic County Pool
So what do we mean when we talk about tile and coping? Pool tile generally refers to ceramic tiling placed as a border or completely covering a pool's surface, adding a decorative element. Coping is the concrete or stone edging around the top of a pool. When it comes to tile and coping, the possibilities and combinations are nearly endless. Key factors to keep in mind when searching for your ideal combo include:
Color Scheme: From neutrals to brights, there are many options for your tile and coping colors. Keep in mind the coloring of your pool plaster to keep a cohesive appearance to your pool and surrounding area.
Size: From 1 x 1 up through 6 x 6, we carry tile in many sizes to suit your needs. Choose a smaller tile for a more intricate look, or large tile for a bolder look. You can also mix and match different sized tile to create unique designs and personalize to your taste.
Material: Tile is available in glass, ceramic, porcelain, and even stone. Coping may be made of limestone, granite, brick, slate and many other materials.
With so many options available, any pool can be customized to suit your tastes. Tile and coping not only create a visually appealing pool, but can add safety precautions to your swim area as well; some styles offer advantages such as being slip resistant and creating a smoother surface that won't harm bare feet.
Browsing our guide to selecting tile and coping is a good place to start once you've decided it's time to update your pool's look!
Call The Atlantic County Tile & Coping Professionals
Our crew is highly skilled at completing beautiful tile and coping projects on all types of swimming pools. Coronado's Pool Renovations is made up of professional pool contractors who can handle all of your swimming pool renovation needs! Call us today at (215) 723-5885 to discuss your pool tile and coping options. You can also reach us by email for a quote at jje@coronadospoolrenovations.com.