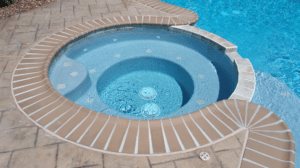 When you're in the process of planning a swimming pool renovation, choosing the right finish is key. Coronado's recommends Diamond Brite: a quality pool finish that will add shine and a new level of beauty to your Salem County pool. A combination of natural quartz aggregates and fortified white portland cement, Diamond Brite is a finish that is durable and attractive.
Quality Salem County Pool Finish: Diamond Brite
Diamond Brite finishes are designed not only to add beauty to your pool, but to endure the elements. They will also resist showing signs of wear from daily use. This finish will continue to provide a beautiful base to your pool for many years. Reasons to choose Diamond Brite finish for your pool renovation include:
Slip-Resistant: Diamond Brite finish offers a comfortable yet non-skid surface. It is perfect for comfort, as it is smooth and doesn't expose any sharp edges, as well as safety by offering slight resistance, preventing slips.
Variety: Available in a broad spectrum of color choices such as 'Midnight Blue' and 'Mojave Beige,' there's something for everyone. We're sure we can help you find your perfect color match.
10-Year Warranty: Coronado's is pleased to offer a 10 year warranty on select finishes, including Diamond Brite. We know that with our expert installation and the finish's tough resistance, your new pool finish will stand the test of time.
Etch & Stain Resistant: The tough natural quartz of this finish proves to be extremely resilient to many forms of damage, such as etching and staining. This means your pool's new finish will look brand new for years to come!
Coronado's staff is prepared to help you to find the right pool finish for you. Whether you want to learn more about Diamond Brite finishes or are seeking advice on color combinations, we're here to help. We're also pool contractors, meaning we can help to finish a variety of other pool projects you have in mind.
Coronado's for Expertise in Diamond Brite Finishes
For premium service on your Diamond Brite finish, Coronado's Pool Renovations is a top choice. Family-owned and renovating pools for over 25 years,  we are experts in the pool business.  We're a certified member of the National Plasters Council as well as a member of the Association of Pool & Spa Professionals. We also come highly recommended by pool owners and always strive for excellence on every job. Call us at (215) 723-5885 or reach us by email at jje@coronadospoolrenovations.com to schedule your free consultation today!