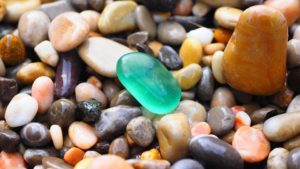 Whether you're in the process of installing a finish on a brand new pool or looking to refresh your existing pool's look, StoneScapes Pebble Finish is a great option for a natural look.
Coronado's Pool Renovations is a trusted pool renovation company that has been in the business for over 25 years. Applying beautiful finishes to pools is just one of the many services we offer; we also offer services such as pool stain removal and pool resurfacing. For a one-stop swimming pool contractor that can complete all of the renovations your pool needs, choose Coronado's.
Why Choose Pebble Finish for Doylestown Pools?
Choosing the right finish for your pool may seem like a daunting task. Benefits of choosing Pebble Finish for your swimming pool renovation or upgrade include:
Natural Beauty: As its name implies, Pebble Finish gives the feel of a natural space such as a riverbed or stream, right in your own backyard. For those who crave a more natural look to their pools and backyard spaces, Pebble Finish is a perfect choice.
Comfort: The small, smooth pebbles in this finish offer optimal comfort for feet and hands in the pool area.
Durability: This finish resists etching and scratching, and is stronger than conventional pool surfaces. It also comes with a limited warranty.
Variety: Not only does this finish provide a unique, one-of-a-kind look with its natural pebble material; it's available in a range of colors. From light hues as seen in featured color 'Sand' to a black stone with pops of color like the blues and reds found in 'Midnight Blue,' Pebble Finish can fit a variety of desired color palettes.
Texture: For a visually enticing, intricate look that has a variety of textures, StoneScapes Pebble Finish is a great choice.
Pebble Finish is a favorite among pool owners. This finish attracts a lot of well-deserved positive attention for its straight-from-nature look; consider choosing it for your pool restoration or renovation product for a finished look that is sure to be a crowd pleaser!
Coronado's: Pebble Finish Professionals Serving Doylestown
Coronado's Pool Renovations are experts in the pool renovation business. Attention to detail and our precise application make us the perfect choice for your next pool refinishing project. Our team will work with you to choose colors and products that reflect what you envision for your pool.
For pool owners in Doylestown or elsewhere in PA or NJ, schedule a free consultation today! Reach us by phone at (215) 723-5885 or by email at jje@coronadospoolplaster.com.