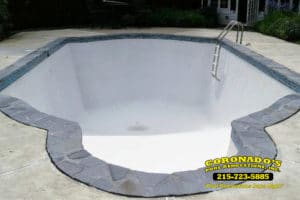 Swimming pool coping is the material used to cap the shell wall of a pool. Typically made of concrete or stone, coping is an essential feature of swimming pools. Pool stone coping adds a beautiful final touch to any swimming pool. When choosing pool coping, be sure to choose a color and material type that is complementary to the rest of your pool material and surrounding area. By choosing stone coping, you can rest assured knowing you'll be getting a great value on a durable and natural finishing touch for your pool.
Choosing the right coping for your pool makes all the difference in creating the overall look you want to achieve. Whether you opt for a classic brick coping or are looking to add a splash of color with something like a tumbled bluestone, your coping options are nearly endless. Some types of stone coping also offer bonus safety features such as being slip resistant and staying cool even in the summer heat.
Bucks County Pool Stone Coping Professionals: Coronado's
Coronado's Pool Renovations is the top pool stone coping installation company serving Pennsylvania and New Jersey. Don't just take our word for it; see what others are saying. Client Byron Z. wrote of his pool renovation experience: "The quality of the work was excellent and completed on time. The sales representative was extremely helpful and patient during the material selection process. The selections of tile, coping and plaster far exceeded that of other pool restoration contractors. We highly recommend Coronado's for your pool restoration requirements." With over 25 years of experience, our numerous 5-star reviews echo our dedication to creating beautiful pools that stand the test of time.
Our sales team will provide you with a variety of samples of different types of stone coping, such as bluestone and travertine (a type of limestone). They can even help you narrow down your options and help pair the coping to your existing pool colors and materials. Our stone coping installation team pays close attention to detail and masterfully completes installations to ensure every job meets our high standards. We provide services for all types of pools: residential, spas, hotels, gymnasiums and more.
When you're ready to get your pool stone coping project underway, give us a call! Our phone number is (215) 723-5885 and our email address is jje@coronadospoolplaster.com. We look forward to helping with all of your swimming pool coping and renovation needs!