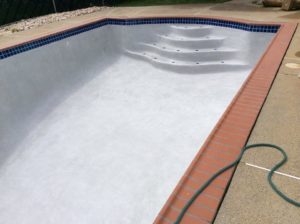 Every swimming pool is more than what meets the eye: the surface under the water plays a crucial role in the overall appearance and beauty of swimming pools. A rough or cracked surface can lead to an undesirable and outdated swimming area. Resurfacing swimming pools can make a world of difference in the overall look and feel of your pool. If you're looking for an easy way to significantly impact the appeal of your pool, you've got options. Coronado's Pool Renovations' team of professionals offer a variety of pool touch-ups, from swimming pool repair to high quality pool finishes.
Main Line Swimming Pool Resurfacing Options
If a sparkling new surface to your pool is what you're looking for, Coronado's can help. There are many options for resurfacing swimming pools; two such featured options are as follows:
Acid wash swimming pool's surface: if your swimming pool's surface or the surrounding area is showing signs of algae buildup, an acid wash may be the solution for you. Our acid wash process is quick and efficient, using nontoxic chemicals for optimum safety. The process removes all signs of algae, making your pool's surface look brand new again. Coronado's crew are also experts at tough chemical stain removal. With Coronado's help, your pool's surface will be spotless in no time!
Polish swimming pool surface: rough surfaces can not only mar the appearance of your pool, but can make for uncomfortable swimming and treading conditions. Polishing your swimming pool surface removes jagged edges and any sharp corners, leaving only a smooth and beautiful surface for you to enjoy for many seasons.
We can cover all kinds of resurfacing jobs for your pool, in addition to many other kinds of pool renovations. For a total renovation or resurfacing project, Coronado's employs our unique pool renovation process. Our 7-step renovation process is tested and proven to work making all swimming pools beautiful and inviting.
Coronado's for High Quality Main Line Swimming Pool Resurfacing & Renovation
Our expert staff has been beautifying pools for over 25 years. We tackle all types of pool renovations: from residential to water parks swimming pool renovations, and everything in between. Contact us anytime to talk to a professional about your swimming pool surfacing options.
Scheduling your resurfacing or any other type of renovation during the off season puts you ahead of the curve as many people don't  even think about scheduling time for their pool until the warm weather starts peaking in the springtime.  Don't wait, get in touch today! Call at (215) 723-5885 or email us at jje@coronadospoolrenovations.com. With Coronado's, a beautiful pool awaits!