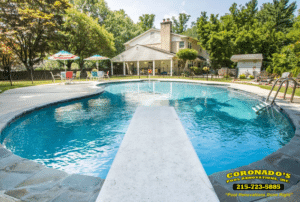 If you're looking for swimming pool contractors who can complete a pool project that you've already begun, or complete a new project from start to finish, Coronado's Pool Renovations is a great choice. A family-owned and operated business for over 25 years, Coronado's has the expertise and professionalism to masterfully complete any pool project.
Services for Salem County Swimming Pools
As a full-service pool contractor, Coronado's Pool Renovations offers the best in a wide range of pool renovation services. Our crew can tackle any pool makeover project you may have in mind, such as:
Tiling and Coping: With many tile sizes and material options available, as well as various types of coping, possibilities to personalize your pool are nearly endless. Contact our staff for tile samples and to learn more about our tiling and coping services.
Plastering: Coronado's plastering process is an effective way to completely makeover and treat pools. From the initial consultation all the way through to finishing touches like sealing pools, you're in good hands with Coronado's knowledgeable team on the job.
Superior Clean: We offer deep, professional cleanings to keep pools looking their best and to improve overall safety. Acid washes and chemical stain removal are two cleaning services we provide for swimming pools.
Swimming Pool Repair: From cracked tile to worn down coping, repairs can be a quick way to update your swimming pool. Though a fairly simple fix, pool repair can be vital to retaining pool safety as well as an overall attractive appearance.
Dedicated to providing the ultimate pool renovation experience, the Coronado's crew works hard to achieve beautiful and thorough results on every pool service we complete. With special offers such as a 10-year warranty on select pool finishes (such as Durazzo and River Rok), there are many reasons to work with Coronado's.
Salem County Swimming Pool Contractors
Coronado's Pool Renovations offers a superior swimming pool contractor experience. For pools in Salem County or elsewhere across PA or NJ, our team is certified to complete pool renovations. Friendly service and knowledgeable staff put us above the competition. Feel free to browse through our reviews to see positive feedback received from previous clients. Coronado's takes pride in our craftsmanship, tackling every job with a careful attention to detail.
To find out how we can help improve the look and feel of your swimming pool and surrounding area, contact us today!
Contact Information:
Phone: (215) 723-5885
Email: jje@coronadospoolplaster.com