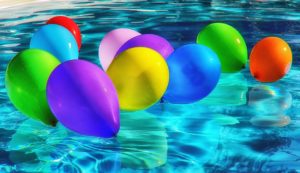 As summer approaches, spending more time in your backyard is a must. This means gardening, barbecues, and our favorite kind of event: pool parties! Nothing beats a cool pool on a hot summer day—and when you turn it into a party, even better! Before you invite your guests over, though, there are certain safety measures and party plans you should check off your list.
Tips For Successful Hatboro Pool Parties
There are many simple, inexpensive ways to ensure your backyard pool parties are a blast. Make sure you have these areas covered for a safe and enjoyable party:
Hydration: Make sure to have plenty of water and other refreshing beverages available to guests. Dehydration is a common occurrence while spending extra time exposed to the hot sun in the summertime.
Sun protection: Strong summer sun rays can cause damage to the skin. Having sunscreen on hand is a smart way to encourage your guests to reapply as needed. You may also provide umbrellas, tents, tarps or other forms of coverage to provide a shaded area for outdoor relaxation. Taking advantage of natural shade from trees and other large plants is also a good idea—be sure to place chairs in shaded areas.
Set the Scene: Provide plenty of pool toys, such as beach balls for organized games and various floats for lounging. Don't forget to have a playlist prepared—music is a must for pool parties! Consider a theme for your party and decorate accordingly.
When it comes to pool parties, the swimming pool is the main attraction. Keep your pool area clean and safe and your work is almost done! Get creative and keep the good times going by hosting frequent get-togethers with friends and family this summer.
Count on Coronado's for Hatboro Pool Renovations
Before planning your summertime pool parties, make sure your pool is in pristine condition. This will ensure your pool is inviting as well as safe to swim in. Coronado's Pool Renovations can help with even simple projects that will make your pool ready for guests, such as repairing cracks and tile or pool stain removal for a sparkling clean and new-looking pool. With over 25 years of experience, Coronado's is an elite pool service team that you can trust to get the job done right. We're also pool contractors; we can assist you with any aspect of the pool renovation process. Contact us today to see how we can help beautify your pool and help keep it safe all season long! Our phone number is (215) 723-5885, or feel free to email us at jje@coronadospoolplaster.com.