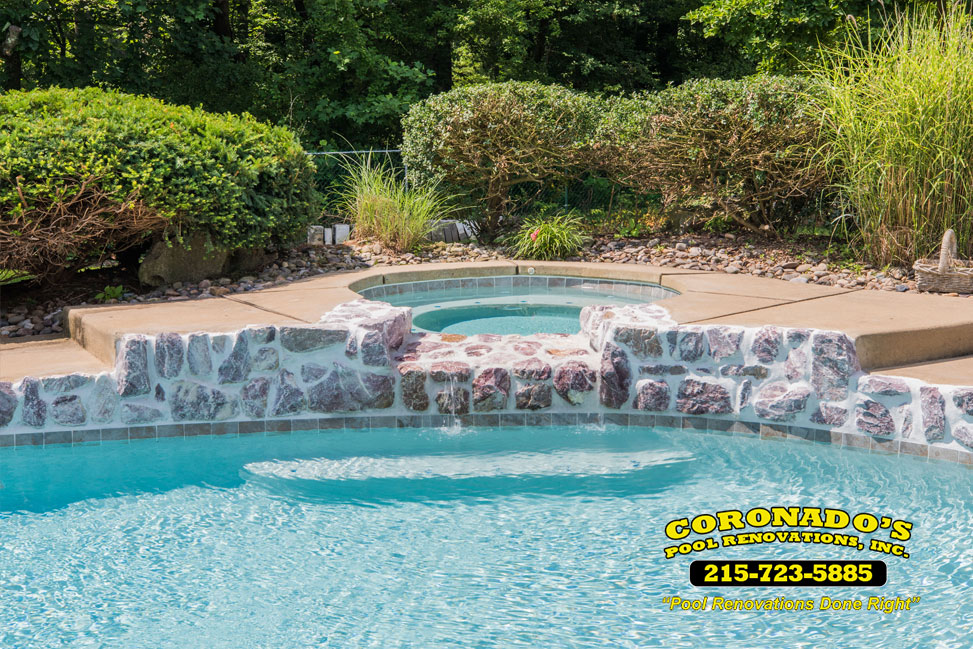 Pool stone coping is a great choice for a durable and decorative cap to pool walls; however, choosing stone coping is just the beginning of the decision-making process as the types of pool stone coping available are numerous. Familiarize yourself with some basic types of stone coping to help shape your vision of a perfect pool area.
Pool Stone Coping Options for South Jersey Residents
Pool stone coping comes in a variety of material options; some of the more common types include:
Bluestone: A type of flagstone, bluestone is a popular option for pool coping. This durable stone can also be used as decking and for other aspects of the pool area. This makes it easy to create a uniform look.
Travertine: A form of limestone, travertine is a porous stone that absorbs water quickly. This fast absorption prevents the stone from becoming slippery when wet. Travertine is a great option for pool areas as it tends to stay cool to the touch, meaning it remains a comfortable temperature for bare feet and hands-even on summer's hottest days.
Limestone: This stone holds up well against the elements, as it is very weather-resistant and durable.
Sandstone: Made up of quartz particles, sandstone is another tough stone that stands the test of time making it a perfect choice for pools that get a lot of traffic.
Granite: Another stone type that is comprised mainly of quartz, granite is one of the hardest natural stones, making it a go-to choice for pool coping and decking.
Pool stone coping adds a natural finishing touch to pool areas. Different types of stone coping add new levels of beauty and intrigue to swimming pools, drawing the eye to the water. Stone materials offer a textured, slip-resistant surface to the edging of pools. For safety and durability, pool stone coping is a smart choice.
South Jersey Stone Coping Installation Experts: Coronado's
For expert installation of pool stone coping and all other things pool-renovation related, choose Coronado's Pool Renovations. With over 25 years of experience with pool renovations, our team is ready to tackle any pool makeover challenge. From pool stain removal to resurfacing, Coronado's are pool contractors who have the tools and know-how to get the job done right.
To speak to a member of our staff, dial (215) 723-5885 or email us at jje@coronadospoolplaster.com. Our team can provide coping samples and advice to help find the best pool stone coping for your unique pool.