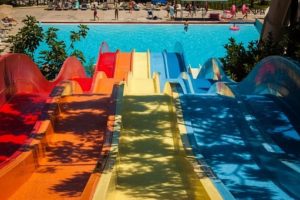 As cooler weather approaches, now is the perfect time to start thinking about water parks swimming pool renovations. Many renovations are too time-consuming to be completed during the busy swim season; the end of summer and beginning of autumn is the perfect time to plan a renovation for your water park.
Why Choose Water Parks Swimming Pool Renovations?
It's important to choose the right contractor when looking to renovate a swimming pool. This is especially true for commercial pools such as those found in water parks, where the pool is the main attraction for guests. Reasons to schedule your water park's swimming pool renovations include:
Happy Guests: Keep your park's guests happy and entertained by refreshing your pool's look. A modern, clean pool creates a fun atmosphere where guests can soak up the sun in style.
Health & Safety: Certain renovation projects, such as tile & coping repair and acid washes, not only improve a pool's appearance, but also ensure health and safety for swimmers. It's important to repair cracked tile and coping as soon as it's spotted to reduce the chance of the damaged area spreading, as well as to prevent exposed skin from being scratched or cut on the rough surface. Deep cleanings, such as acid washes and chemical stain removal, remove bacterial, chemical, and other potentially hazardous buildup. This helps to keep the pool area and water free of harsh and harmful material.
Key to Success: Water park renovations that improve health & safety as well as keep guests happy and interested are vital to the success of the business. Renovating pools and adding exciting new touches such as water features and new finishes keeps things fresh and attracts new and returning guests alike.
With so many great reasons to renovate, don't wait! Experts at Coronado's Pool Renovations are ready to provide you with a free consultation to explain how we can bring new life to your park's pool.
Coronado's for Dazzling Gloucester County Water Parks Swimming Pool Renovations
Coronado's Pool Renovations is an expert pool contractor company providing 5-star services for commercial and residential pools across the states of PA and NJ. For a trusted pool contractor that is family-owned and professional in every aspect, choose Coronado's!
Each member of our team of pool professionals has undergone complete training to ensure every job is completed with utmost care and attention to detail. We're confident that our renovation services will help to keep any water park looking its best. Contact us today to schedule your renovation project or to discuss your pool makeover needs.
Contact Information:
Phone: (215) 723-5885
Email: jje@coronadospoolplaster.com