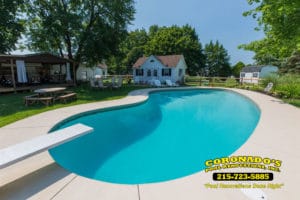 So, you're considering installing or renovating a pool on your property. Maybe you're a homeowner who has been fantasizing about a backyard pool for years. Maybe you're the manager of a hotel who thinks guests would love a spruced-up pool. Whatever your reasons, Coronado's is excited to help install or renovate the pool of your dreams.
Here's why you should choose Coronado's for your commercial swimming pool renovations needs:
We have an amazing selection of pool finishes:
From luxurious Durazzo marble to shimmery Mother of Pearl, we offer dozens of unique, gorgeous pool finishes to make your pool your own. Not only are these finishes attractive, but they're practical, too—the smooth finish we will install is slip-resistant and feels great on your feet.
We're experts at pool stain removal:
It's a fact of life: pools get dirty. In particular, chemical stains can be a hassle to remove. And they aren't just unattractive. Chemical stains indicate a possibly toxic buildup of chemicals in your pool.  Thankfully, Coronado's has the training and experience to remove these unsightly stains safely and effectively.
Our customers love us:
At Coronado's, customer service is important to us. That's why we're delighted to share some of our favorite testimonials from our satisfied customers. Check them out to learn about how our talented crew will make your commercial swimming pool renovations experience as easy and successful as possible.
Our results speak for themselves:
Sure, we can tell you all about how wonderful our pool services are. But the best way to see if Coronado's is right for you? Take a look at our before and after gallery. Over the years, we've taken thousands of pools from drab to fab, and we can do so for you, too!
Coronado's: Commercial Swimming Pool Renovations You Can Trust
Coronado's Pool Renovations is a family-owned and -operated business. We're proud to have been in the pool renovation industry for over twenty years. Owner Jose Coronado mentors all of our employees, so they're trained to the highest standards. Furthermore, Coronado's is a certified member of the National Plaster's Council and the Association of Pool & Spa Professionals.
Want to learn more about how the commercial swimming pool renovations team at Coronado's can transform your pool?  Give us a call at (215) 723-5885 or contact us online to arrange your free in-person consultation.