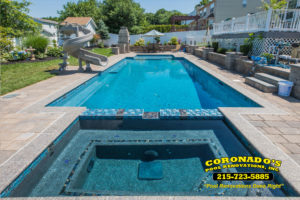 Available in a wide selection of material types and styles, CLI pool finishes are perfect for all types of Ardmore pools including backyard and Olympic styles. No matter what kind of finish you're looking for (natural stone, quartz or polished marble), CLI offers something for everyone. With the help of trusted pool contractor company Coronado's Pool Renovations, choosing a new finish and achieving a polished, beautiful pool is easily accomplished.
Why Choose CLI Pool Finishes?
For high-quality, beautifully designed finishes that add a special touch to all kinds of swimming pools, CLI pool finishes can't be beat. These are the varieties of CL Industries pool finishes that are available for installation by the Coronado's pros:
SunStone Pearl: ​For fans of pebble finishes, SunStone Pearl is a great option. Tiny, hand-selected, smoothed pebbles and reinforced white Portland cement combine for an elegant finish.
KrystalKrete: This dazzling quartz pool finish is composed of special quartz aggregates of varying sizes and white Portland cement. KrystalKrete comes in 16 colors, sure to please pool owners everywhere.
SunStone Select: Another quartz finish offering by CLI, SunStone Select is an exposed aggregate finish complete with white Portland cement, quartz and other aggregates, as well as colored quartz accents.
Hydrazzo: ​One of CL Industries' polished marble pool finishes, Hydrazzo is made up of specially blended white marble aggregate, white Portland cement and graded color aggregate. This special mix of ingredients results in a favorite in the pool industry, with one of the smoothest exposed aggregate surfaces that's available.
Each of these finish options were created with pool owners in mind; not only are these finishes easy to maintain, but they also are extremely resilient and resistant to etching and color fading. Non-slip yet smooth surfaces leave your pool comfortable and safe for swimmers while maintaining exquisite beauty.
Settling on a style and color palette can be tricky; contact Coronado's expert team today to get help narrowing your choices and selecting the best fit for your pool type.
Count on Coronado's Pool Renovations!
When it comes to the application of swimming pool finishes, Coronado's Pool Renovations are a safe bet. Our knowledgeable and friendly staff have earned countless glowing reviews after completing services on our clients' pools. We're certified to complete pool work in Ardmore and beyond including the rest of Pennsylvania as well as New Jersey. Call today to book your pool project!
Contact Information:
Phone: (215) 723-5885
Email: jje@coronadospoolplaster.com