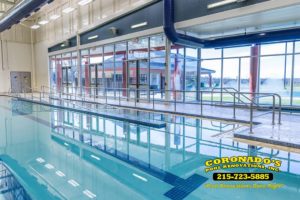 As the weather starts to heat up, there's one thing on everyone's minds: swimming! With the start of swim season, now is a great time to make sure your pool is in good shape and ready for use. If you require commercial swimming pool repairs, contact Coronado's today. We'll help get your pool in tip-top shape to attract guests and keep them coming back to your beautiful pool.
Types of Commercial Swimming Pool Repairs
Depending on your level of pool damages, there are different options for pool repair. Types of commercial pool repair that Coronado's currently offers include:
Swimming Pool Tile & Coping Repair: ​Chipped and scratched tiles or coping make pools look dingy and in need of care. The expert crew at Coronado's is ready to repair and replace missing tiles to complete mosaics and make your pool area look refreshed.
Polish Swimming Pool Surface: There are a couple of options available to correct uneven, rough or filthy swimming pool surfaces. Polish your swimming pool surface with a professional waterblast process, acid wash, or chemical stain removal.
Swimming Pool Replaster: Plaster that has become cracked, rough or otherwise damaged can leave a pool feeling dirty and unappealing. Consider choosing a new type of pool finish to really make your pool look completely new and different. With options like quartz, pebble, and marble finishes available, it's easy to change the vibe of your swimming pool.
Pool repair helps to prevent injuries caused by uneven, jagged edges. It's also easier for staff to clean smooth pool surfaces, preventing algae and other residue from building up. Another reason to fix damages sooner rather than later is to save money; by completing pool repairs when damage is still at a minimum, you prevent major disrepair from happening and avoid large, costly repair jobs. To make your pool the hot spot this summer for swimmers and guests looking for a relaxing place to lounge poolside, schedule your pool repairs ASAP.
Coronado's Offers a Variety of Services for Commercial Swimming Pools
Coronado's Pool Renovations is happy to offer our professional services for all types of commercial pools, including Olympic pools, water park pools, spas and more. Our team of experts are ready to complete all kinds of pool renovations; in addition to commercial swimming pool repairs, we also offer pool surface preparation, application of intricate tiling and finishes, and professional cleanings. Trust Coronado's for your next pool project!
Contact Information:
Phone: (215) 723-5885
Email: jje@coronadospoolplaster.com