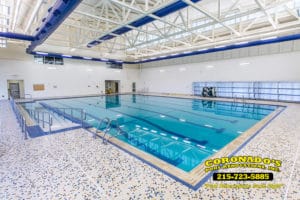 An important part of pool ownership is keeping up with repairs and updates. This is especially true for commercial swimming pool owners, as these pools tend to receive much more wear and tear from frequent use.
Repair or replace commercial swimming pool tile & coping to keep your pool safe and looking its best. Swimmers will appreciate the clean and new look of a pool that has updated tile & coping.
Why Choose Coronado's for Commercial Swimming Pool Tile & Coping?
Coronado's Pool Renovations is a smart choice for all of your commercial tiling & coping needs. Our team has the experience and expertise to finish every job with precision and attention to detail. Services we offer include:
Application of Tiling: Available in a wide variety of options, Coronado's is sure to offer a tiling that suits your style.
Coping Installation: Coping acts as a frame for your pool, capping the part of the pool where the wall and edge meet. Keeping coping in prime condition is important as it often serves as an entryway and exit to the pool for swimmers. Coronado's coping application techniques guarantee quality coping for years to come.
Tile & Coping Repair: Damaged tile & coping can make a pool appear dingy and dirty, as well as pose a safety hazard. Coronado's employees are experts in pool repair, and can make any cracked or chipped tiling or coping look good as new.
Taking care of your commercial swimming pool's tile & coping has never been easier, thanks to the pool professionals at Coronado's. Our expert pool renovation crew is available for free consultations before you commit to our services. Our team can help determine the most efficient way of fixing up your pool and making it look its best. We offer a broad range of renovation services beyond tiling & coping, making Coronado's the perfect choice when you have multiple pool projects to complete. Our available pool renovation tasks extend past tiling & coping to include application of pool finishes, Olympic pool renovation, updates for spas and more.
Coronado's: Commercial Swimming Pool Tile & Coping Pros
When it's time to hire a pool contractor that best fits your needs, Coronado's can't be beat. Serving Chester County as well as other counties across Pennsylvania and New Jersey, we're a local company you can trust. We're a family owned, local company with over 25 years of experience in pool renovations of all kinds. Contact us today to schedule a free consultation and see how we can improve your pool's appearance and overall safety.
Contact Information:
Phone: (215) 723-5885
Email: jje@coronadospoolplaster.com