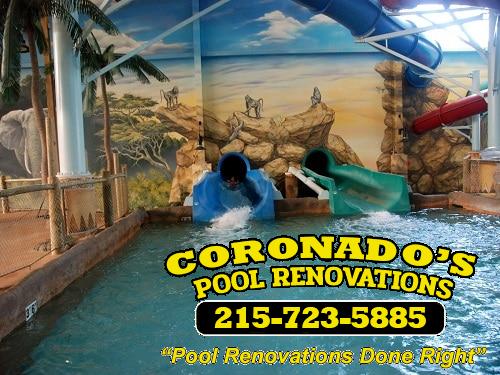 Owning a water park can be both exhausting and exhilarating. You have a lot to manage, but you also get to enjoy the water, the sun, and the fun every day! You get to see adults and children of all ages coming to your park to cool off and have a blast. We want to help make the business side a little easier for you, so you can focus more on creating a fun environment for your employees and guests. Let Coronado's Pool Renovations, Inc. handle your most common water park swimming pool renovations!
Replacing the Pool Plaster or Tile
Depending on the age of your water park, or the pools in the park, you might need to have the plaster or tile replaced. This is a fairly easy project for our experienced team. It should only take about one to two working days to complete, which means your customers will not be out of the water for too long. Replacing the plaster or tile is an important step in preventing your pools from leaking.
Removing Stains
It's not uncommon for water park pools to develop stains. These can be unsightly and can even prevent your customers from wanting to go in the pool! You should have stains removed as soon as possible so that your pools look inviting and your customers feel safe and welcomed at your water park.
Installation of Jets and Other Features
Our experienced team can make other renovations to the pools at your water park by installing jets and other features. Many water park pools now have seats in them along the walls. Guests can relax on these seats while they watch their children go for a swim. It combines being in the water and being able to sit down for the ultimate relaxation! We can also add jets to your water park pool to help heat the water or create some waves.
Does Your Water Park Pool Need Repairs? Call Coronado's Today
Does the pool at your water park need repair or need to be completely renovated? If so, it's time to give the trusted team from Coronado's Pool Renovations, Inc. a call. Schedule your appointment for service by calling our office at 215-723-5885 today. We can tackle any water park swimming pool renovation that you require. There is no project too large or too small!