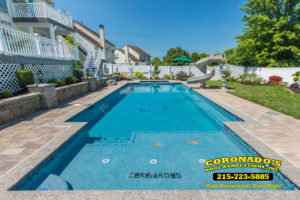 When you choose Coronado's Pool Renovations, you're supporting a family-owned pool renovation company. Coronado's has been family-owned and operated since the very start: over 25 years!  The team at Coronado's functions under the guidance of Jose Coronado, who leads a mentoring program for every team member. With our office located in Telford, PA, Coronado's is a local company that offers pool services to Cumberland County as well as elsewhere across Pennsylvania and New Jersey. As certified members of the National Plasters Council as well as the Association of Pool and Spa Professionals, our dedication to crafting beautiful pools is clear!
Coronado's: Expert Pool Renovation Company
Coronado's is a pool contractor that offers a long list of renovation services, including those that other pool contractors may not offer. Our full line of renovation options include:
Pool Finishes: With a variety of beautiful finishes like KrystalKrete Quartz Finish and SunStone Select, as well as expertise in finish application, Coronado's is a top pool refinishing company.
Tiling & Coping: As a major feature of any swimming pool, having a choice of tiling and coping is important. Luckily, Coronado's offers a wide variety of tiling and coping options, including a choice of material, size and color.
Acid Wash: An easy fix for algae buildup and more, an acid wash is a great option for a quick clean.
Chemical Stain Removal: Chemical stains may require professional removal. Not only will your pool look newer, but it will also be safer once potentially hazardous chemical build-up is removed.
Swimming Pool Repair: Keep your pool looking its best and avoid the danger that chipped or cracked tiling or coping can pose by repairing damages.
…and more! Our team has the expertise to get any project completed with total attention to detail and dedication to providing the best in pool renovation services. We provide pool services for all types of pools: residential, spa and hotel, community pools, and more. Get in touch today to see how you can add your name to our list of satisfied customers.
How to Schedule Your Pool Renovation Company Appointment
It's simple to book an appointment with Coronado's Pool Renovations! Simply choose your preferred method of communication, phone or email, and reach out today. Our friendly staff is standing by to schedule your consultation today. We're also here to answer any and all of your pool renovation questions. Contact us today to see how we can help revitalize your pool!
Contact Information:
Phone: (215) 723-5885
Email: jje@coronadospoolplaster.com