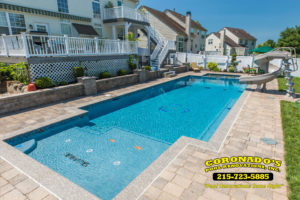 ​Morrisville area pool owners should fix swimming pool coping before the approaching swim season. Coping is an essential part of any pool, and damaged coping with cracks and jagged edges can pose a safety hazard for swimmers. It's important to keep up with pool repair and maintenance not only for the safety of swimmers but also to keep your pool looking its best.
Now is a good time to start thinking about the types of pool restoration you'd like to complete before the hot days of summer return. Schedule your renovations today to reserve a spot before experienced pool contractors like Coronado's are booked for the season!
Why Should You Fix Swimming Pool Coping?
There are lots of reasons to consider pool repair, especially to fix damaged coping. Reasons to consider fixing your coping as soon as possible include the following:
Safety: ​Coping runs along the entire length of a pool, capping the edge where the pool wall and top edging meet. As such, swimmers are frequently brushing up against it. In the interest of protecting bare hands and feet from scratches and scrapes, repair coping as soon as possible after damage is spotted.
Beauty​: ​Coping acts as a frame for a swimming pool. The eye is drawn to blemishes such as cracks, chips, or missing pieces of coping, taking away from the overall beauty of your swimming pool. Repairing coping helps to restore a pool's eye appeal and attractiveness as a swimming spot.
Prevent Further Damage: ​Repairing damage sooner rather than later is key to preventing the damage from becoming worse. It's also less time-consuming and less expensive to repair coping before the damage worsens.
Whether you're interested in pool repair or other renovations to get your pool in top shape for the swim season, Coronado's can help. Our extensive services include work on tile & coping, refinishing, professional cleanings like acid washes and more. We offer services on all types of pools, including residential, water parks, and even Olympic swimming pools.
Coronado's Provides Quality Service in Morrsiville & Surrounding Areas
Morrisville swimming pool owners looking for an affordable and trustworthy contractor to complete renovations and repairs can count on Coronado's Pool Renovations. Our team has been in the business for over 25 years, with plenty of positive testimonials from satisfied clients across PA and NJ to confirm our beautiful, high-quality results. For more information on pool repair and renovations, contact us today!
Contact Information:
Phone: (215) 723-5885
Email: jje@coronadospoolplaster.com