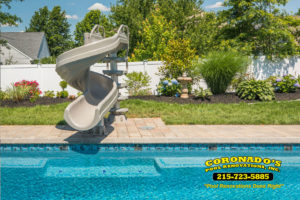 Thinking about ways to fix up your swimming pool this year? When it comes to ways to fix swimming pools, the options may seem overwhelming. Luckily, with the help of experienced pool contractors like Coronado's Pool Renovations, it's easy to pinpoint the exact types of fix-ups that will improve your pool's appearance.
Ways to Fix Swimming Pools
Whether you're looking to complete small-scale pool repair or looking to completely change the look of your pool, many forms of pool renovation are available. All types of pools can benefit from fix-ups, including backyard pools, hotel pools and even Olympic swimming pools. Keep up with pool repairs and maintenance to keep your pool looking its best! Examples of ways to fix swimming pools include:
Polish Swimming Pool Surface: ​There are several methods available to achieve a polished swimming pool surface. Both professional acid washes and chemical stain removal are available for deep cleanings that remove unsightly algae and other residue, leaving pools looking their cleanest and smoothest.
Swimming Pool Tile & Coping Repair: ​Tile and coping have a massive impact on the overall appearance of a swimming pools. Special care should be taken to keep tile and coping in good repair, not only for visual reasons but also for safety. Since swimmers come into frequent contact with pool coping and tile work, any cracks or jagged edges can pose a real safety hazard easily avoided with routine maintenance.
Swimming Pool Replaster: ​Choosing to replaster a swimming pool may seem like a serious and daunting task. However, it's a routine procedure that will leave stunning results. Ask about the 10-year warranty available on SGM finishes, including River Rok, Durazzo and Diamond Brite.
Investing in pool repair and renovation is a great way to save money in the long run by preventing existing damage from becoming worse. Pool renovations also increase the enjoyment that your guests and you will get out of your pool, making them a worthy investment.
Choose Coronado's for all of Your Swimming Pool Needs
At Coronado's Pool Renovations, we specialize in completing detailed and thorough pool makeovers. We have over 25 years of experience in pool renovation and design under our belt, and many 5-star reviews to prove our talent and workmanship is the best. Bridgewater New Jersey and other townships throughout the states of NJ and PA are in our licensed area of service. Contact us today to discuss and schedule your seasonal pool fix-ups!
Contact Information:
Phone: (215) 723-5885
Email: jje@coronadospoolplaster.com