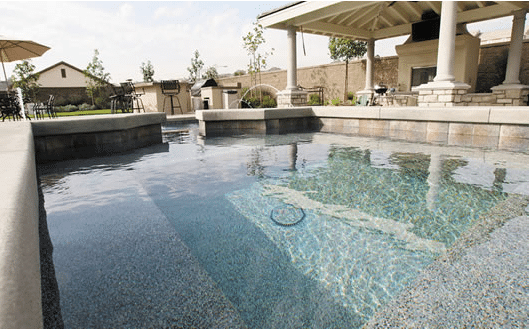 If you have a new pool that needs to be plastered, or you've decided to replaster your old pool, it can be difficult to choose between the varieties available. When selecting your pool's finish with the help of your Bucks County pool designer, there are four factors to consider: cost, durability, safety, and beauty. The four types of plaster offered by Coronado's Pool and Plaster can be broken down into these categories:
Traditional Plaster
A traditional plaster finish is the least expensive option for your Bucks County commercial or personal pool. It comes in white, for a lighter water color, or grey for a darker effect. These finishes can be expected to only last 12-14 years, so while their price is lower, decreased longevity is a factor.
Marble Polished Aggregate Finishes
A combination of finely crushed stone and concrete, these finishes are applied by hand and then polished by your Bucks County pool design company. Their hallmark is superior beauty, and they offer a durability lasting 10-12 years longer than traditional plaster finishes.
Hydrazzo: this hand-polished finish is composed of marble with white Portland cement; with 14 beautiful colors and a silky texture, Hydrazzo is the height of luxury.
Durazzo: one of the most durable and beautiful finishes available, Durazzo is highly resistant to discoloration, staining, and spot etching. It's formulated to be slip-resistant, providing increased safety to swimmers, and comes in many gorgeous colors.
Exposed Aggregate Finishes
Like marble polished finishes, your Bucks County pool design company will apply exposed aggregate finishes by hand—but then is power-blasted to expose the quartz or glass pebbles embedded in the finish. In situations where safety is paramount, exposed aggregate finishes provide the best traction and slip-resistance.
Diamond Brite: comes in a variety of colors and textures, with stain and fade-resistance, and a 10-year warranty.
Krystalkrete: has the highest etch resistance available, with a confirmed reputation for durability, strength, and easy maintenance.
Pebble Finishes
With customizable colors and pebble size, you'd think that natural beauty would be the greatest recommendation for pebble finishes. However, Bucks County pool designers have found they also offer high durability and longevity. The naturalistic surface variations mask cracks or scratches, while, with proper maintenance, the finish itself can be expected to last 20 years or more.
Stonescapes: offers lovely texture and rich variability of color—like having a stone-dappled pond in your backyard.
River Rok: utilizes a unique computerized blending process to produce the most consistent finish possible. Suitable for commercial and private pools.
Coronado's Pools and Plaster is Your Bucks County Pool Designer
Whether you already heave your heart set on a particular look for your pool, or need advice selecting the best finish for your aesthetics and needs, Coronado's Pools and Plaster has 20 years of experience to help you realize your dreams. Contact us today for a consultation with the Buck County pool design company that gets it right the first time, every time.