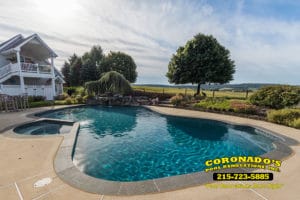 Sanitation is a very important component of pool upkeep. A clean pool is one that is safe and fun, not to mention beautiful. The experts at Coronado's Pool Renovations recognize the importance of a clean pool for keeping you and fellow swimmers healthy and happy year-round. The tips we've provided below are easy and effective; by following this guideline your pool will stay sparkling clean!
Tips for Pool Sanitation in Berks County
Keeping your pool sanitary is so easy, anyone can do it! When it comes to keeping your pool clean, follow these simple steps:
Frequently check water levels. Balancing the pH level, alkalinity and calcium hardness will ensure your pool water is clear and safe for swimming.
Vacuum and brush regularly. Manually removing debris from the walls and floor of your pool is a basic but effective way of removing any build-up and preventing algae from accumulating. Skimming the top of your pool also prevents debris from accumulating in your pool and prevents water cloudiness.
Use pool cover during storms and between gaps of use. This will keep out unwanted debris blown about by strong winds and will help prevent evaporation of your pool water as well.
Keep filters clean. A clogged filter won't be able to function properly, leading to dirty and cloudy pool water. Cleaning your filter at least once a month will help to ensure it is running smoothly.
Keep pool surfaces smooth. Cracked plaster or tile creates hard-to-clean surfaces where algae thrives. Professional pool companies like the crew here at Coronado's can fix your swimming pool tile and offer other swimming pool repairs.
By following these guidelines, your pool will remain clean and ready for use all year!
There are many easy ways to make sure your pool stays clean year-round on your own, but if you feel you'd benefit from a professional cleaning or pool repair, Coronado's is here to help. Coronado's Pool Renovations offers stain and chemical removal services such as acid washing your swimming pool's surface to keep algae and other build-up away from your pool. Our top-rated team is dedicated to hard work and customer satisfaction, aiming to keep every pool sanitary and attractive.
Coronado's for Clean Berks County Pools
The hard-working crew at Coronado's Pool Renovations is always available should you have any questions or concerns about the cleanliness of your pool. To talk to a member of our professional staff or to schedule an appointment for a swimming pool acid wash, to fix your swimming pool tile, or some other service, please contact us. We'd love to help make and keep your Berks County pool clean and beautiful!