Mother of Pearl Dolphin Blue
Mother of Pearl Noir
Mother of Pearl Mini & Standard Natural Pebble Plasters Finish
A Collection of Inorganically Pigmented, Mini and Standard, Natural Pebble Plasters. Mother of Pearl swimming pool plaster finishes feature natural & ancient water basin and ocean pebbles sourced from around the world, and chosen for their color and smooth consistency. Mother of Pearl pool finishes are the most versatile plaster finishes in the pool industry because they can be utilized in and out of the water. Beach entries, waterfalls and fountains are enhanced by the natural textured surface. In the pool the plaster reveals thousands of pebbles that reflect light through the water resulting in a glorious variety of hues.
Benefits of Mother of Pearl Plaster Finish
Aggregate: inert to chemical damage
Color: Inorganic Cobalt Blue in Mother of Pearl Mixes are resistant to fading from UV and chemicals.
Mother of Pearl Sea Gem
Sea Gems are a unique variety of natural whole, tumbled and crushed Abalone shell. In Mother of Pearl plaster finishes we broadcast the Sea gems into the finish during installation and trowel them into the surface of the pool's pebble finish. Abalone is sold in 5lb bags with a recommended distribution of 1lb per 100 square feet of plaster. We offer two premier types of Abalone; Sea Gem Sunrise: recommended for lighter pebble finishes consisting of a blend of shimmering pink, pearl, and soft grey. Sea Gem Sunset: recommended for darker pebble finishes consisting of a blend of iridescent violet, rose and peacock.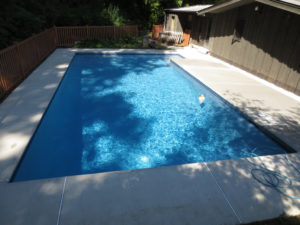 ---