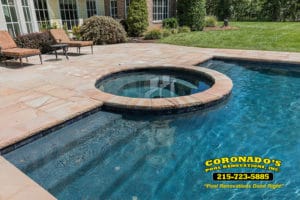 If it's been a while since you've completed swimming pool renovations, it may be time to think about scheduling some upgrades. Whether you're on a tight budget or have been saving up to undergo major renovations, there are many options available to update your pool.
To discuss your options with professionals in the pool makeover business, count on Coronado's Pool Renovations. We are experts in the field with years of experience and numerous rave reviews. We're a great source of ideas and inspiration to get your pool looking its best. We're also pool contractors who are able to complete every step of refinishing and other renovations, making it easy to complete all of your pool projects in a timely and affordable manner.
Examples of Swimming Pool Renovations
There are all kinds of options available when it comes to swimming pool renovations. Budget-friendly options like minor pool repair or more extreme makeovers like refinishing projects will improve your pool's safety and appearance. Examples of ways to renovate your swimming pool include:
Install a New Swimming Pool Finish: ​A new finish will have a major impact on your pool's appearance. For a long-term guarantee of quality, take advantage of our 10-year warranty on select finishes, including Durazzo, River Rok and Diamond Brite.
Add Color to Swimming Area​: ​Color helps to make a space warm and inviting. Adding color is also a great way to add personality and liveliness to a pool area. Colorful plants, patio furniture, pool toys, new pool finishes or tiling are all great ways to add more pops of color into your space.
Choose New Tiling: ​Installing a new tile opens up a world of possibility. Choose a colorful glass option, stone for a natural look, or even a mosaic to create a truly unique pool area.
To discuss these options or to see what other renovation possibilities may benefit your pool, contact the team at Coronado's. We'd love to help find the right pool solutions for your needs and budget.
Count on Coronado's for Quality Swimming Pool Renovations
Experts in pool renovations with over 25 years of experience, Coronado's Pool Renovations is a reliable and trustworthy source of all kinds of pool services. We take pride in our work and pay careful attention to detail to make sure every job is done right. For a consultation, get in touch today. Welcome the 2018 swim season with a fresh pool area to enjoy!
Contact Information:
Phone: (215) 723-5885
Email: jje@coronadospoolplaster.com