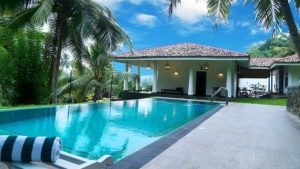 This year, give vacationers a reason to make your hotel a number one destination with hotel swimming pool renovation. A beautiful swimming pool helps to make for a memorable visit, ensuring guests enjoy their stay at your hotel or resort. Book your renovations as soon as possible to avoid waits during the height of pool renovation season.
Types of Hotel Swimming Pool Renovations
Renovating hotel swimming pools is a general term that can refer to many different types of services. Common hotel swimming pool renovations include:
Expert Pool Cleanings: ​Even pools that are cleaned regularly may sometimes require professional cleanings to get a truly thorough clean. Tough-to-remove chemical stains can pose a challenge to even the most diligent cleaning crews; luckily, Coronado's are pros at getting rid of these hard to handle stains. We'll even take things a step further and help you to determine the cause of reoccurring stains to prevent future ones from appearing.
Refinishing Pool: ​The options available for new hotel pool finishes is astounding. All types of colors and materials are available for new finishes, including quartz finishes and pebble finishes. It's a good idea to talk to a member of Coronado's team for help narrowing down your options and to ask about taking advantage of the 10-year warranty available on select finishes!
Pool Repair: ​To prevent swimming pools from appearing dingy, be sure to complete pool repair as necessary. Pay close attention to your pool's tile and coping and be sure to schedule repair as soon as damage is spotted to prevent swimmers from injury.
Updating your hotel swimming pool will help to ensure your guests have a pleasant time during their stay. Boost your hotel's reviews and keep guests returning to your site on future trips with the attraction of a gorgeous swimming pool. If you're not sure what type of renovations would best complement your pool, contact Coronado's. We can help guide your pool makeover process and make sure your pool is ready to entertain guests in no time.
Coronado's: Professional Hotel Swimming Pool Contractors
Coronado's Pool Renovations has been in the pool business for over 25 years. During that time, we've completed high-quality pool makeovers and repairs on all kinds of swimming pools, including hotel pools, Olympic pools and more. Every member of our crew is carefully trained to complete many different components of pool care. We undertake every job in a manner that holds up to our high standards. You won't be disappointed when you work with Coronado's to complete all of your hotel pool updating needs!
Contact Information:
Phone: (215) 723-5885
Email: jje@coronadospoolplaster.com