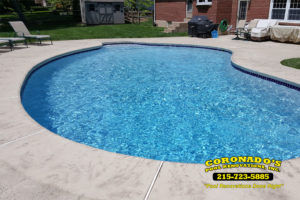 Thinking of sprucing up your pool with a new finish this year? SGM swimming pool finishes are of the highest quality, designed for practicality as well as impeccable design. To sweeten the deal, Coronado's Pool Renovations offers a 10-year warranty on SGM products, so you can rest assured that your investment is guaranteed to stand up to the test of time.
Pool finishes are often what draws the eye to a pool. Make your pool stand out by choosing an exceptionally stand-out finish! The styling and coloring of a pool's finish also determine how the pool's water will look, so choose carefully to get the overall vibe you want for your pool.
Varieties of SGM Swimming Pool Finishes
SGM swimming pool finishes come in a variety of base materials, including pebbles, marble and quartz. No matter what look you're hoping to achieve with a new finish, SGM has you covered! Here are three types of SGM finishes currently available for installation by the pros at Coronado's:
River Rok: ​A favorite amongst pebble finishes, River Rok is a great choice for all nature lovers. The pebbles that make up this finish are carefully selected and tumbled, resulting in a smooth and comfortable final product. River Rok is specially factory blended to ensure colors and textures are evenly distributed for a seamless and consistent finish.
Durazzo: White marble aggregates in this finish leave pool owners with a sophisticated, sleek new look once applied. This finish also contains quartz for steadfast, nonfading color that won't be affected by the sun's harsh rays.
Diamond Brite: ​Perfect for those seeking a quartz-based finish, Diamond Brite is made up of a blend of quartz aggregates and fortified white Portland cement. Quartz pieces help to reflect the sun's light, making for a sparkling, dazzling pool look.
SGM finishes are perfect for any type of pool, whether residential or commercial. With an exceptional durability and hassle-free maintenance, SGM finishes are sure to please. Each type of finish is available in a range of colors, making it possible to get the exact coloring and styling you want.
Coronado's: Pool Finish Installation Pros
Trust Coronado's Pool Renovations to expertly install new SGM swimming pool finishes. Our carefully trained team members always complete jobs in an efficient, responsible manner, leaving the pool area neat and clean once we're through. Call today to discuss your pool renovation options and get help finding the best finish for your pool!
Contact Information:
Phone: (215) 723-5885
Email: jje@coronadospoolplaster.com