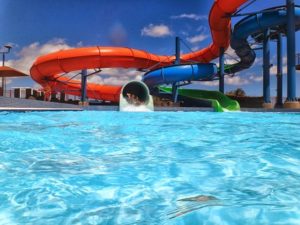 The slow or off season is the perfect time to complete water parks swimming pool renovations. Get ready to open for the upcoming summer swim season by debuting new renovations, increasing your water park's allure. Completing renovations is a great way to ensure swimmers' safety while keeping up with appearances, making your water park a desirable swimming and gathering place.
Water Parks Swimming Pool Renovations
Water parks can benefit from a variety of renovations. Luckily for water parks and pool owners, Coronado's makes it easy to complete any and all renovations without the hassle of needing to hire several different contractors to complete each job. Services that Coronado's offers include:​
​Pool Surface Preparation: ​A precursor to a swimming pool refinishing project, surface prep must be completed thoroughly before a finish can successfully be applied. The Coronado's team are pros at proper pool surface preparation, including the use of Permakote or a similar substance to bond finishes to the prepped surface.
Refinishing Projects: ​Refinish your pool for a big 'wow factor'. From elegant quartz finishes to crowd-pleasing pebble finishes, Coronado's offers something for every pool.
​Tile & Coping Work: ​​To update outdated tiling and coping or to repair cracks, trust Coronado's. We pay close attention to detail to get the job done right. We also aim to increase the safety of all pool areas. Replacing chipped or cracked coping and tiling is important to protect swimmers' bare hands and feet.
​Deep Cleanings: ​​Acid washes and chemical stain removal are important for keeping pools looking their best and killing off algae build-up.
Our expertly trained staff is available to complete any kind of pool projects you may have in mind. We can also help suggest ways to improve your pool's look and feel. Pool renovations can have a major impact on attracting guests to water parks. Get in touch to schedule your free consultation today!
​Coronado's Completes Quality Water Parks Swimming Pool Renovations
Coronado's Pool Renovations is a trusted pool makeover company ​with over 25 years in the business. We're members of the National Plasterers Council and are proud to declare an A+ rating from the Better Business Bureau.
Ask a knowledgeable member of our staff for more information about the types of services we provide. We're happy to work with your budget to find the renovations that you require at competitive prices. Maximize the attraction to your water park for the 2018 swim season by updating your facilities today!
Contact Information:
Phone: (215) 723-5885
Email: jje@coronadospoolplaster.com