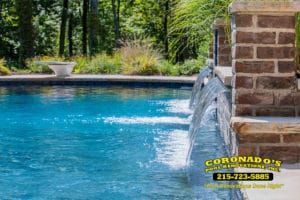 There are several different methods of preparation for refinishing a swimming pool. The waterblast swimming pool technique is one that many pool professionals complete before applying a new finish to pools. Coronado's Pool Renovations favors waterblasting over sandblasting for a variety of reasons, including that waterblasting tends to be a cleaner, more efficient process. Trained experts at Coronado's perform waterblasting regularly as part of our pool prep procedure.
Waterblasting vs. Sandblasting
Waterblasting may sound complicated, but it's actually a rather simple process. Waterblasting is the process of using special machinery to spray a pool's surface with water at an extremely high pressure. This removes dirt, debris and unwanted plaster or paint that has been applied to a pool's surface. Essentially, waterblasting creates a blank slate on which to apply a new plaster to refinish a swimming pool's surface. Below, we've outlined key factors that we believe make waterblasting a more efficient choice than sandblasting:
Clean: Unlike sandblasting, which leaves behind messy sand and debris, waterblasting is a clean method of pool surface preparation. Waterblasting eliminates buildup of dust and dirt that can cover a pool's surrounding area, including landscaping and even homes, during the sandblasting process.
Cost Effective: A big pro for any pool owner on a budget, waterblasting is an affordable pool preparation method. Coronado's offers competitive pricing on all waterblasting procedures, keeping pool plaster resurfacing project pricing low.
Timely: Waterblasting is a fairly straightforward and quick process; Coronado's up-to-date waterblasting equipment makes our method as fast and efficient as possible.
A thorough waterblasting is essential in resurfacing prep, since pool plaster must be applied to a clean, properly prepared surface. Trained professionals like the staff at Coronado's are the perfect choice to complete the waterblasting process on your swimming pool.
Mercer County: Choose Pros to Waterblast Swimming Pool
If you're looking for a team of highly-rated professionals to waterblast your swimming pool, Coronado's Pool Renovations is a perfect choice. Our numerous 5-star ratings from pool owners in your area reflect our dedication to superb customer service and attention to detail. Successfully completing pool renovations for over 25 years, Coronado's provides excellent pool makeovers to Mercer County and the surrounding New Jersey and Pennsylvania areas. We offer free consultations including pricing quotes to help our customers make informed decisions before hiring a pool contractor. For all pool maintenance, renovation and general swimming pool-related inquiries, contact Coronado's for helpful advice!
Contact Information:
Phone: (215) 723-5885
Email: jje@coronadospoolplaster.com