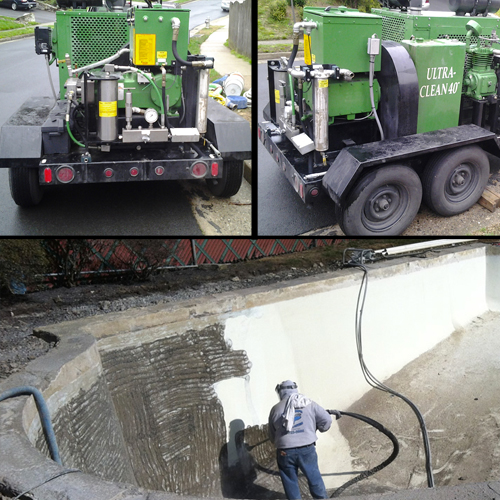 When it comes time for your pool to be resurfaced, the first thing to do is clean and prepare it. There are a couple different ways to accomplish this, but in this blog, you'll learn why waterblasting is our preferred method, and why it's better than sand blasting. The experienced team at Coronado's Pool Renovations, Inc. can perform waterblasting services for your pool in a matter of one day! Let's take a look at the waterblast swimming pool benefits, so you know why it's the best option for your pool.
Why Waterblasting Instead of Sand Blasting?
One of the old methods of cleaning a pool and removing paint and algae was sand blasting. Sand blasting is a difficult and arduous process that leaves debris all over your yard and sends unhealthy particles into the air. This is why most companies, including Coronado's Pool Renovations, Inc., have switched to waterblasting.
Benefits of Waterblast Swimming Pool Service
The benefits of our waterblast swimming pool service are as follows:
No debris sent flying all over the yard
No unhealthy particles in the air
No extended cleanup time
No need to shovel sand debris out of the pool and into wheelbarrows
Hydraulic water pressure is used to blast the pool
Unsuitable material is removed at speeds of 1500 MPH using our machine
There is no abrasive added to the pool that needs to be cleaned up later
An Easy Process
Waterblasting is the easiest of all the blasting processes available to clean a pool or remove the paint from the interior walls of a swimming pool. Sand blasting takes too long because of the cleanup process. Waterblasting moves quickly because of the pressure and speed of the water, the brief cleanup process and the overall usage of water. It also takes less than one full business day to complete the waterblasting process. If a crew runs into problems with sand blasting, it could lead to multiple days of cleanup.
Need Waterblasting Services? Call Coronado's Today
Do you need to have your pool waterblasted or resurfaced? If so, you can call the experienced and trusted team from Coronado's Pool Renovations, Inc. about your project. Call our office at 215-723-5885 to schedule an appointment!