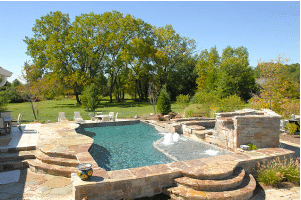 The installation of a swimming pool in Pennsylvania is a serious undertaking that should only be performed by a licensed and trained installation team. At Coronado's Pool Renovations, Inc., our team is highly trained, skilled, and experienced when it comes to installing all types of pools for your home or commercial property. We have many beautiful pool finishes for our clients to choose from, and Bondkote is one of them! Why do we use swimming pool surface preparation Bondkote, you ask? This is a great question and one that we will answer in today's post.
Updating Your Pool's Finish
If you already have a pool in your home's backyard, you might want to consider updating the finish of the pool. This often happens when the current finish has become faded, worn, or has developed chips or other problems. No one wants to spend money on a pool and then have it not look its best over the years. If you're looking for a wonderful finish to help update your pool, consider Bondkote!
Bondkote is a special formula that is made up of two parts cement coating. The best use for this finish is as a substrate to bond the pool plaster over any existing plaster finishes that are on your pool. The curing time for this finish is six hours, but it is best to wait at least 24 hours before doing any plaster work on the pool.
Benefits of Bondkote
The benefits of Bondkote include the following:
Almost completely gets rid of any problems with de-lamination
Offers hydration on an even level while plaster is being applied
Has a superior capability to bond
Has high flexural strength
Eliminates the need for substrate preparation at excessive levels
Helps save on equipment and labor costs because it is so easy for us to install
As you can see, the benefits of Bondkote are numerous, which is why we use it so often when updating the finish of our customers' pools throughout Pennsylvania.
Call Coronado's Pool Renovations for Service
Does the finish of your pool need to be updated? If so, make sure you call Coronado's Pool Renovations, Inc. to schedule an appointment for service. We can use the swimming pool surface preparation Bondkote, or another one of our many magnificent finishes, so that your pool shines like it's brand new. Call us today at 215-723-5885 to schedule your appointment.