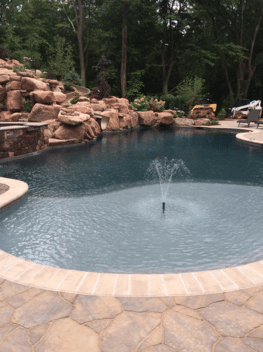 If you're the owner of a South Jersey backyard swimming pool, eventually the day will come when you'll need to consider renovations. This affects all pool owners, regardless of how well-maintained or neglected the pool may have been over the years. When you begin to notice signs of aging, such as cracks in your pool's finish, decaying of your tile and coping, or decreased function of your pumps and filters, it's time to start planning your South Jersey pool renovations.
Renovating your pool can be a fun and rewarding experience. It gives you the opportunity to revamp your entire backyard for the next 20-30 years. With all of the options available today, you can find the perfect combination of elements to visually tie your pool in with the rest of your backyard and your home. And there are numerous luxury customization options which can help make your pool the envy of your block.
Endless South Jersey Pool Customizations
When you decide to break ground on your South Jersey pool renovation project, make sure to take your time in choosing the right options for your backyard. Once you have your finish, tile, and coping picked out, it's time to start looking at bells and whistles. Here are a few popular customization options to help enhance your poolscape:
Hot tubs & spas – Adding a spa or hot tub to your pool area can do wonders for transforming your boring backyard pool into a full-fledged outdoor paradise. Connecting it with the pool creates a fully immersive environment and allows you the option of swimming or relaxing.
Water slides – This works especially well if you have kids, or for those of us who are still young at heart. A water slide will provide countless hours of entertainment and gives you an alternative to lazy lounging.
Fire features – Adding fire to your poolscape will help extend those lazy summer days into long summer nights. Well-placed tiki torches, fire pits, and firebowls add a great deal to the ambience of your backyard and pool, and can be used for other fun summer night activities, such as roasting s'mores.
These three features are sure to improve the atmosphere of your backyard and pool. Be creative and think of other ideas that may fit well with your current landscape. There are nearly limitless options for customizations, both big and small.
Contact Coronado's for South Jersey Pool Renovations
If you're looking to upgrade your pools surface or your poolscape, don't hesitate to contact our team of experts here at Coronado's for a free consultation. We'll help you choose the best combination of features for your poolscape, and install them in an efficient manner.