Swimming Pool Plaster Preparation in PA
For over 27 years, Coronado's Pool Renovations has provided Pennsylvania homeowners with high-quality swimming pool renovations. Our experience, efficiency, and affordability make us the go-to contractors for swimming pool plaster preparation in PA. Here's a more in-depth look at our services:
Pool Plaster Chipping Off in PA
If you've ever noticed crater-like blisters on your pool floor or pool walls, that's a sign that your plaster is chipping off. Chipped plaster usually results from poor bonding between the plaster and concrete wall of a pool. Other causes include:
Ground shifting
Low humidity
Excessive sun exposure
No matter the cause, our swimming pool plaster preparation technicians in Pennsylvania will replaster your pool and restore it to prime condition in no time, making sure it's ready for those hot summer days.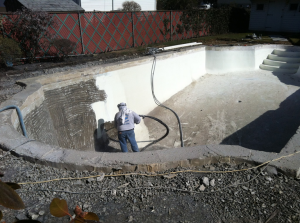 Pool Preparation Process
Coronado's takes all necessary action to turn off power to pool equipment, water features, lights and auto water fills.
Drain Pool
Chip/Cutting around existing tile, Coronado's undercuts below the water line of the tile, and around all fittings, wall steps and light fixtures to ensure a flush finish for the new pool surface.
Acid Wash: This method used Acid to clean and etch the substrate of the pool. Then picking/ Chipping Surface of the pool. Stripping is also used to strip old plaster down to the gunite. Find out more about our Acid Wash procedure.
NO SANDBLASTING! NO MESS! Coronado's Pool Renovations used Hydroblasting which a method that removes dirt minerals and loose plaster! Find out more about our Hydroblasting procedure.
NOTE: Anytime we use Acid wash we make sure the wash is thoroughly neutralized and disposed of according to EPA standards.
Are a you Pool Contractor looking for a company to prep your project? Look no further than Coronado's Pool Renovations! Check out our Pool Contractors page!
Prep Pools for Plastering in Montgomery County, PA
Whether your pool wall is chipping or your pool floor needs renovation, our swimming pool plaster preparation in PA can help. We'll start by turning off the power supply and draining your pool with sump pumps. Next, we'll use a grinder to cut beneath the perimeter tiles, creating a ledge for the plaster application. The final steps include inspecting the cementitious pool and repairing any fractures. We'll finish off by sealing the new concrete and acid washing the pool. Once this is done, your pool is prepped and ready for plastering!
Plastering Preparation for Pools in Bucks County, PA
When it comes to plastering preparation for pools in Pennsylvania, our team has seen it all. From tile surface repairs to pebble pool finishes, we'll work hard to ensure that your pool meets all of your expectations. In addition to Bucks County, our swimming pool plaster preparation team services areas throughout Pennsylvania.
Pennsylvania Swimming Pool Plaster Preparation
What makes our swimming pool plaster preparation in PA stand out is our commitment to quality. We use a water-blasting procedure for the removal of dirt and minerals, which is more effective than old-school sand-blasting. Whether you have a small above-ground pool or a cementitious in-ground pool, we'll handle the preparations and ensure the pool surface meets your design and texture requirements.
Ground Prep For Swimming Pools in PA
Before executing a concrete pool plaster installation, the ground needs to be prepped. Our Pennsylvania swimming pool plaster preparation team has successfully carried out ground prep for swimming pools for nearly three decades. We'll start with debris removal to clear space in your yard, then measure the area. The exact installation process depends on whether you want an above-ground or in-ground pool, as well as your desired tiles and texture. No matter which you choose, we'll be sure to comply with zoning regulations.
Additional Services
As part of our comprehensive pool services, we offer:
We're proud to serve Bucks County, Montgomery County, and Chester County, PA.
For more information about our swimming pool plaster preparation services in PA, contact us today!
---