Concrete Pool Renovation Process in PA
When the warm weather is coming up, you want to ensure your swimming pool is in mint condition. Fortunately, we offer first-rate swimming pool renovations to help you prepare your pool for the summer! No matter what type of project we're working on, our contractors in PA follow a concrete pool renovation process that ensures stunning results and optimal conditions. We've outlined our concrete pool renovation process in PA for you to get a more refined idea of how our specialists can transform your pool into a veritable oasis.

Our Concrete Swimming Pool Renovation Process in PA
There are numerous steps involved in our concrete pool renovation process in PA. Here's what you can expect when you call for a concrete in-ground pool renovation:
Initial Consultation: During this step, a renovation consultant inspects your pool and makes suggestions. After you receive an estimate, we can discuss specific changes you want to make, such as tile, plaster, texture, and cementitious applications. You'll then have the chance to set up a starting date for the renovation procedure.
Tile or Coping Removal: If your pool wall or pool floor has any tile or coping that needs to be replaced, our contractors will remove the materials to make room for new swimming pool tile and coping and prepare it for application.
Installation: Once your old tile and coping are out of the way, our team can begin new material installation.
Our installation team will arrive to your property and install the tile of choice and coping.
---
Pool Renovation Process in Bucks County, PA

Coping and tile removal and installation is just one of many renovation steps. Here's what happens next:
Preparation: First, we need to prepare your pool to be replastered. We do this by chipping and cutting the material as needed and examining any hollow areas in the pool. In addition, our team diligently applies cementitious materials like bonding cement if necessary.
Plastering: The next step in the concrete pool renovation process is plastering preparation for pools in and around Bucks County, PA. We use highly-rated materials to achieve a smooth surface texture and enhance the look of your pool.
Self-Leveling Caulk:  In some cases, we may need to install self-leveling caulk between the coping and expansion joint.
---
Swimming Pool Renovation Steps Near Berwyn, PA
Here's a look into our swimming pool plaster renovation startup process: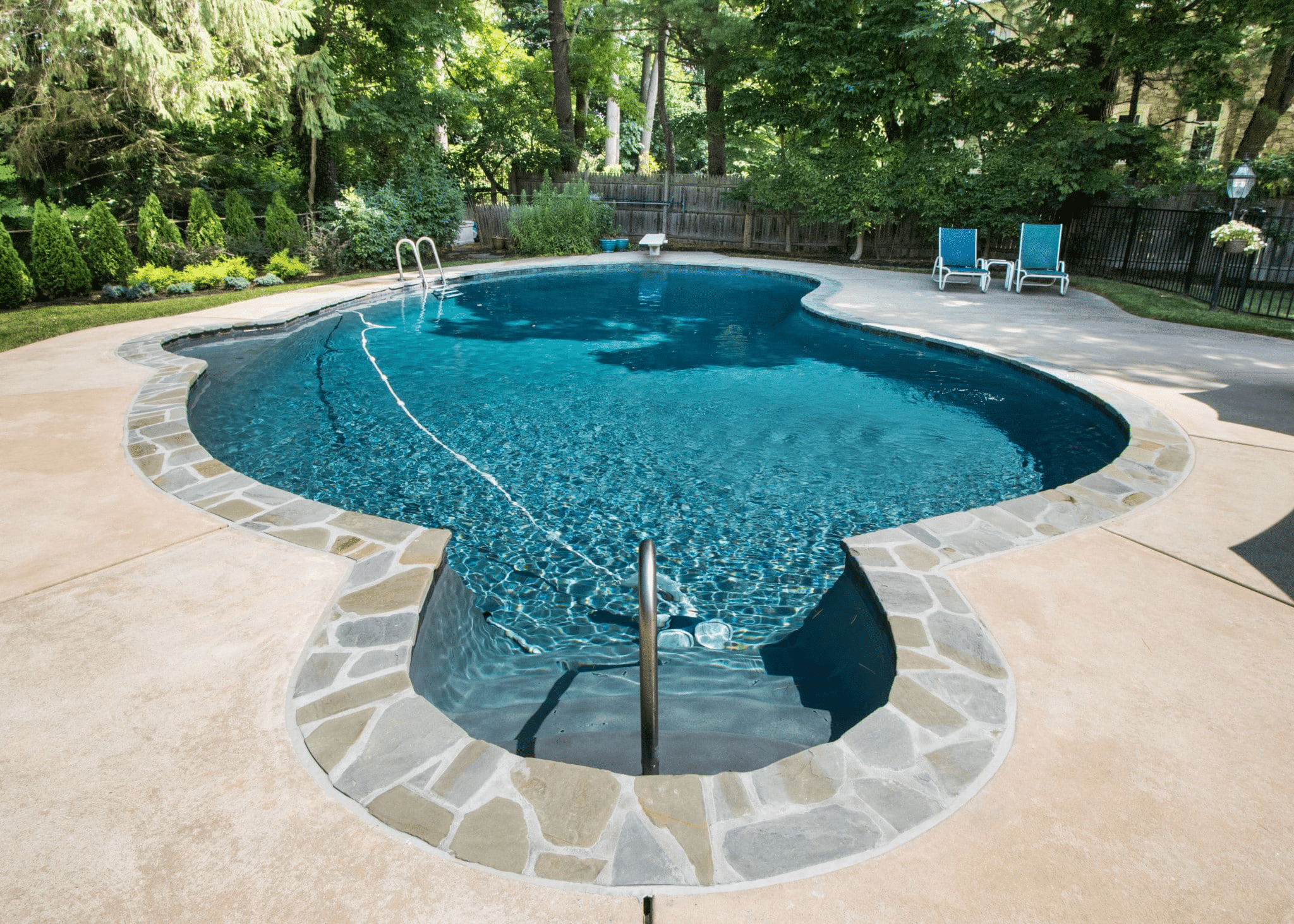 Early Preparation: First, confirm that the filtration equipment is in working order. This helps ensure that the swimming pool is a safe place for renovation to begin.
Filling the Pool: The pool should then be filled with clean, potable water. Make sure the water reaches the middle of the skimmer or the specified water level.
Filtration: The filtration process is now ready to begin. This procedure can supply your pool with clean, fresh water throughout the renovation.
Request a Quote
---
Pool Renovation Procedure in PA
Once the concrete pool renovation process is complete,  it's important to keep your pool floor and wall surfaces in proper shape. Our highly-rated services can help preserve the new and improved state of your pool. Be sure to regularly call for maintenance to keep damage at bay.
In-Ground Pool Renovation Ideas
There are numerous renovation ideas for in-ground pools to help you get inspired. Not only can our contractors offer unique renovation ideas, but they're also eager to offer well-made pool finish materials.
As part of our comprehensive pool services, we offer:
We're proud to put our pool renovation procedure into practice in Bucks County, Montgomery County, and Chester County, PA, including the following towns:
For more information about our concrete pool renovation process in PA, reach out to our team today!