Diamond Brite Exposed Aggregate Super Blue Plaster Finish – Chester New Jersey
Diamond Brite Midnight Blue & Tahoe Blue – Chester New Jersey
Diamond Brite French Gray with 15% Green & 15% Blue Quartz
Diamond Brite Midnight Blue
Diamond Brite Classic
Diamond Brite Super Blue
Diamond Brite Blue Quartz
Diamond Brite French Grey & Grecian Slate
Diamond Brite Cool Blue
Diamond Brite Tahoe Blue
Diamond Brite Onyx
Diamond Brite Grecian Slate
Diamond Brite Oyster Quartz
Diamond Brite Premium White Commercial Quartz
Diamond Brite Pool Finishes in PA
Coronado's Pool Renovations offers several services for cementitious in-ground pools, including the application of Diamond Brite pool finish in PA. Diamond Brite is an aesthetically pleasing polish that beautifies the surface of your pool and has gained popularity in the past decade due to its ability to stand up to pool chemicals. Adding this polish to your pool can also make it easier to maintain over time. During the application process, we apply the texture you want for a unique look for your outdoor living space. You can rely on us for the high-quality installation of Diamond Brite pool finish in Blue Bell, PA, and Ambler, PA.
Diamond Brite Finish Problems in Chester County
If you have any of the following problems with your Diamond Brite pool finish in PA, our contractors can help. The talented technicians at Coronado's Pool Renovations handle the removal of damaged plaster. We can also restore cracks and other damage to your pool wall or pool floor to leave behind a smooth, beautiful surface. We can address issues like:
Scale
Etching
Cracking
Bond Failure
Wear and tear
Many homeowners contact us for scale buildup removal on Diamond Brite pool finish. Hard water with a lot of chemicals can bond to the plaster, creating patches called scale. By cleaning up and plastering the area, we restore the look and functionality of your pool.
Acidic water can cause pockmarks and rough surfaces. It can also discolor your pool finish. We can restore your pool finish and provide recommendations on how to maintain the proper pH level in your swimming pool.
PA Pool Diamond Brite Colors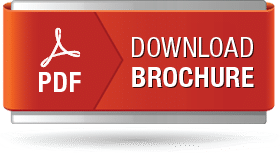 Common colors for Diamond Brite pools include Cool Blue, Onyx, Ivory, Oyster Quartz, Aqua Quartz, and Verde. However, our favorites are Tahoe Blue and French Gray. Which color will you choose for your pool finishing project?
Coronado's Pool Renovations provides comprehensive services for the renovation of concrete pools. If you need tile and coping installation or repair, our contractors can handle your entire restoration.
Diamond Brite Samples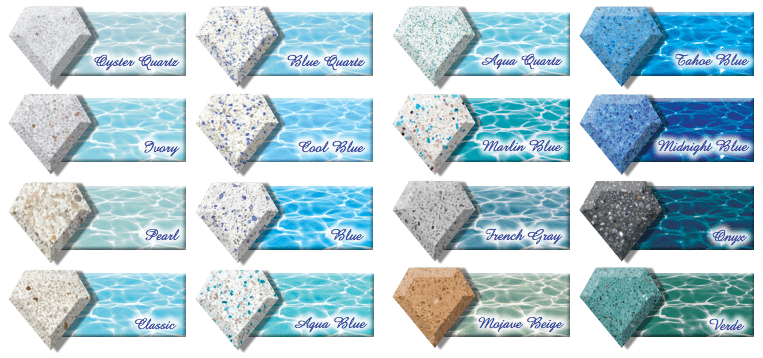 Diamond Brite WaterColor Samples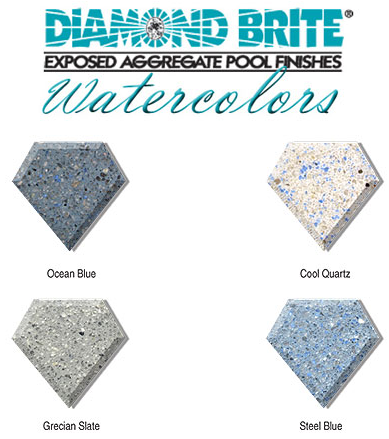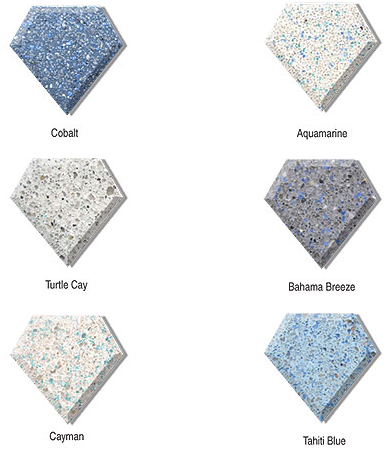 ---
Ambler, PA, Diamond Brite Pool Resurfacing
Do you need a contractor for pool resurfacing? The application of Diamond Brite pool finish in PA can repair cracks and bond failure in your pool walls and pool floors. Our pool contractors restore your in-ground pool to like-new condition.
If you develop small cracks in your Diamond Brite pool finish, it may be time to resurface your concrete pool. Sometimes, if not applied correctly, your pool plaster may not adhere to the finish and begin to peel away. Contact us if you need assistance diagnosing and restoring your swimming pool.
Exposed Aggregate Pool Finishing
Whether you are adding exposed aggregate pool finishing for the first time or need assistance with your inground pool renovation, our experienced installers can provide the services you need.
Coronado's Pool Renovations provides tile, coping, and finishing services for concrete pools. Contact us for a high-quality installation of Diamond Brite pool finish in Pennsylvania. Our service areas in PA include Telford, Bensalem, Blue Bell, Ambler, Berwyn, Yardley, Langhorne, Souderton, and the surrounding areas.
Not sure if you're in our service area? We're proud to serve Bucks County, Montgomery County, and Chester County, PA.
Contact us today to get started!
Request a Quote