Diamond Brite Exposed Aggregate Super Blue Plaster Finish – Chester New Jersey
Diamond Brite Midnight Blue & Tahoe Blue – Chester New Jersey
Diamond Brite French Gray with 15% Green & 15% Blue Quartz
Diamond Brite Midnight Blue
Diamond Brite Classic
Diamond Brite Super Blue
Diamond Brite Blue Quartz
Diamond Brite French Grey & Grecian Slate
Diamond Brite Cool Blue
Diamond Brite Tahoe Blue
Diamond Brite Onyx
Diamond Brite Grecian Slate
Diamond Brite Oyster Quartz
Diamond Brite Premium White Commercial Quartz
Diamond Brite Exposed Aggregate Pool Finish
Diamond Brite combines natural quartz aggregates and polymer modified cement in a stunning variety of colors. The result is a unique finish that stands up to the harshest pool environments while providing years of enjoyment. Unlike traditional marble-based pool plasters, Diamond Brite is made with natural quartz, one of nature's hardest and purest minerals. Diamond Brite does not contain aggregates that can be easily dissolved by pool chemicals causing unsightly etching and rapid deterioration. Diamond Brite's quartz aggregate is unaffected by the harshest pool chemicals and resists permanent staining. also, Diamond Brite's accent colors won't rust, rub off or fade like other colored aggregates because our coating technology produces a tough, permanently bonded aggregate.
Advantages of Diamond Brite
Diamond Brite Finishes are blends of selected quartz aggregates and fortified white portland cement ideal for new or re-finished swimming pools. Available in a variety of colors and textures. Diamond Brite finishes are factory blended to provide the pool owner with an extremely durable and attractive alternative to traditional pool coatings.
Consistency
Durability
10 year warranty
Etch resistant
Stain resistant
Improved bonding
Reduced water penetration
Increased hardness
Smooth non-skin surface
Comfort, Safety, Security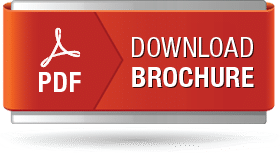 You'll have an added sense of security knowing that your pool is comfortable and slip-resistant. Because Diamond Brite is made from quartz aggregates that are smaller then pebble surfaces, the surface is comfortable to bather's feet. And in this age of safety consciousness, Diamond Brite is the ideal surface where wet, slippery conditions are a concern.
Diamond Brite Samples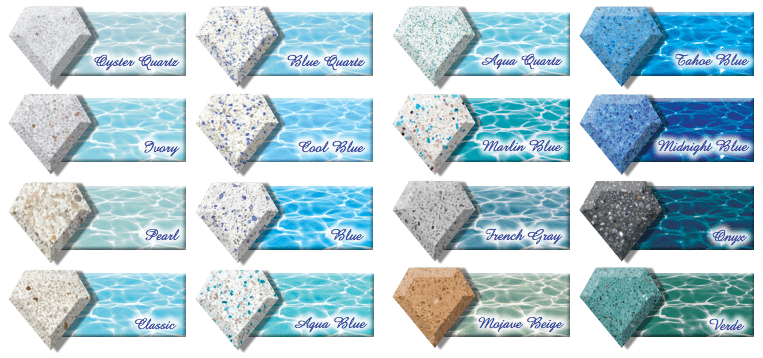 Diamond Brite WaterColor Samples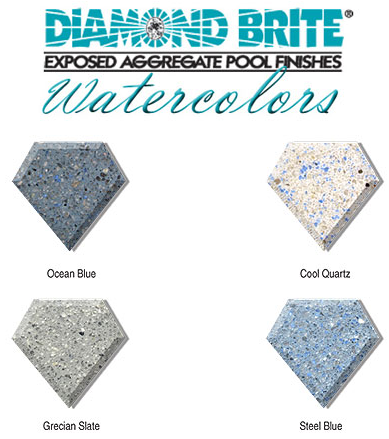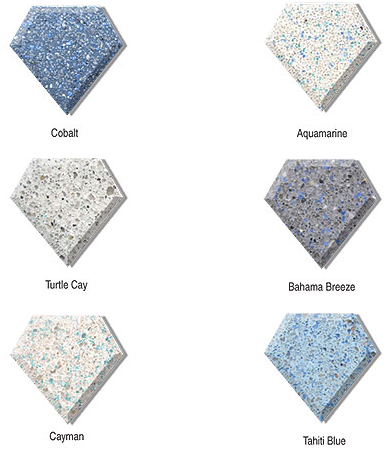 ---