A pool isn't complete without a beautiful plaster finish. Are you on the hunt for a Lancaster County pool renovation company that supplies the finest pool finishes available? Look no further than Coronado's Pool Plaster! We've compiled a list of five gorgeous pool finishes we offer to our clients.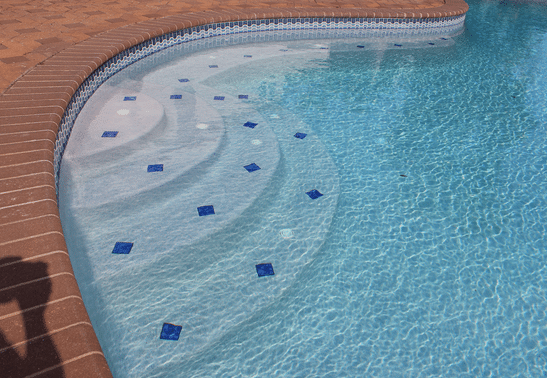 1. Diamond Brite Exposed Aggregate Pool Finish
A durable and appealing alternative to more traditional pool coatings, our Diamond Brite finish combines natural quartz aggregates and polymer modified cement in an array of beautiful colors. Natural quartz is one of nature's hardest and purest minerals, which makes it stain-resistant and powerful against harsh pool chemicals. Diamond Brite's accent colors won't rust or fade because our coating technology produces a permanently bonded aggregate.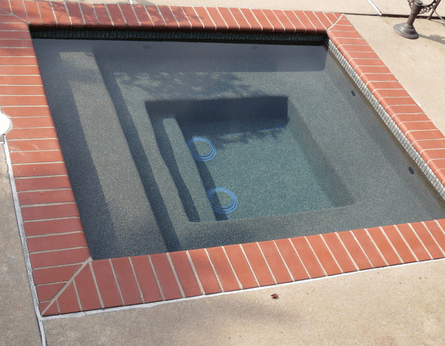 2. River Rok Natural Pebble Pool Finish
River Rok might be the most durable pool finish available. Why is that? The specially formulated cement and proprietary ingredients create time-resistant features and guarantee simple maintenance. Also, this finish can be applied in one day, which saves on installation costs. River Rok comes in a variety of colors and creative designs. Its pre-selected pebbles are naturally tumbled for a smooth finish.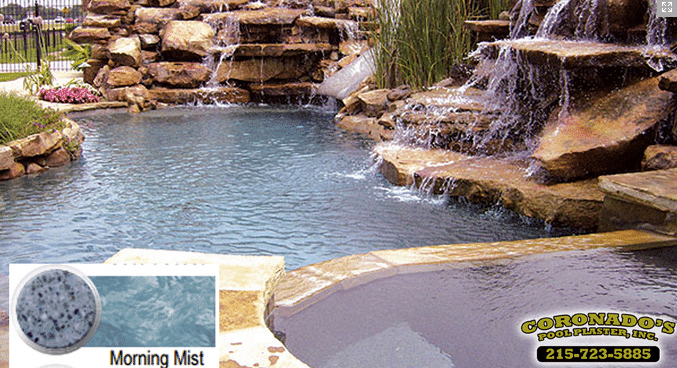 3. Durazzo Polish Marble Pool Finish
To avoid plaster problems such as staining, spot etching, and discoloration, consider our Durazzo finish! This pre-blended, versatile finish consists of white marble aggregates, Portland cement, high-quality color quartz, and performance-enhancing admixtures. Durrazo is stunning, long-lasting and comes in a multitude of colors. What's more, the Durazzo finish is slip-resistant, feet-friendly, and it naturally fights off stains and chemicals that could cause damage.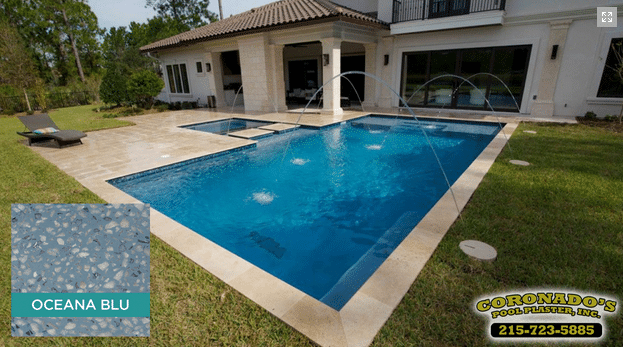 4. Hydrazzo Polished Marble Pool Finish
For a rich, luxurious, and gorgeous finish, there's Hydrazzo Polished Marble! It's formulated from raw materials, such as coarse graded crystalline, colored marble, and white Portland cement. These materials are combined with performance-enhancing ingredients to create a superior pool coating. The final step of the Hydrazzo finish is the secret to its success. The surface is polished to a brilliant luster, which unlocks the marble's natural beauty and strength. It's "smooth sensation" is friendly to feet, hands, and swimsuits. This pool surface is naturally resistant to stains, spot etching, permanent scale and algae adhesion.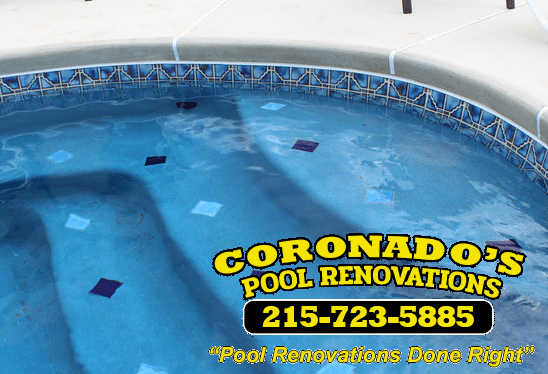 5. Krystalkrete, Exposed Aggregate Pool Finishes
Krystalkrete allows builders to use a combination of different quartz sizes, colors, and pigments. It comes in many beautiful colors, which gives homeowner flexibility in tile and accessory selection. Krystalkrete finishes are blended with enriched White Portland cement and special Quartz aggregates. Durability, easy maintenance, and etch-resistance are just a few of its many benefits.
There you have it! Five fantastic finishes for you to consider for your pool. Not sure which one is best for you? Want more options? Contact the Lancaster County pool renovation experts at Coronado's Pool Plaster! Email jje@coronadospoolrenovations.com or call (215) 723-5885 to learn more about our plastering, coping, tiling, and renovation services.