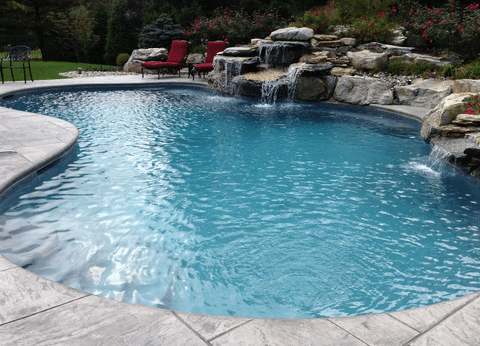 Swimming pools are pretty standard nowadays — you see them everywhere, from backyards and apartment buildings, to schools and gyms. But how often does a pool take your breath away? Probably not very often. There are many easy ways to upgrade your pool, and why shouldn't you? If you're going to invest in a pool, you might as well make it unique, top-quality, and a sight for sore eyes. Your pool is your oasis! Here are five steps you can take to make your pool one-of-a-kind, brought to you by your faithful Chester County pool renovation company.
1. Get a beautiful plaster finish. If your pool needs to be plastered or re-plastered, go for the gold. The Chester County pool renovation experts at Coronado's Pool Plaster carry an extensive collection of plaster finishes that are bound to impress, such as Diamond Brite, River Rok, Mother of Pearl, and SunStone, to name a few.
2. Add tile. What's one way you can make your pool reflect your personality? Install some decorative, charming tile that suits your taste! We offer a variety of different tile materials and styles that will add character to your pool and delight your guests.
3. Work on your poolscape. A high-quality pool is important, but if you don't build up the area around it, you're not letting it live up to its full potential. Grow some flowers, buy some potted plants, style your outdoor furniture, and add decorative details to really make your backyard shine!
4. Install light fixtures. Without lighting, not only does your pool lack ambience, it lacks necessary safety features! Installing light fixtures in and around your pool will keep you and your guests safe, and enhance your overall experience during your nighttime parties. Consider colorful, economical LED lights, magical fiber optic lights, or eco-friendly solar pool lights to spice up your pool and outdoor area.
5. Keep it clean. This one seems pretty simple, right? Wrong! It takes a lot of effort and care to keep a pool sparkling clean and functioning at its peak performance. However, it's absolutely worth the effort! If your pool needs or an acid wash process, you know which Chester County pool renovation team to call.
Not sure how to make your pool a work of art? Have no fear, Coronado's Pool Plaster is here! We have the Chester County pool renovation services you need to complete your pool and raise the bar. Call us today at (215) 723-5885, or fill out our contact form.