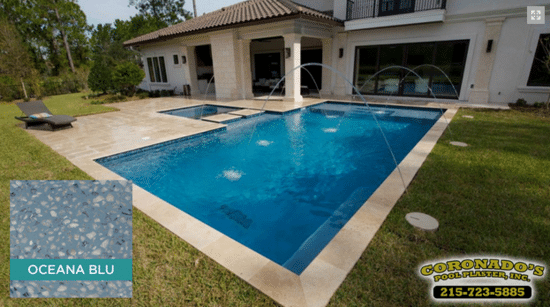 Completing pool renovations in Bethlehem is no small project. After you've completed the bulk of the work, there are still more details to work out – like the tiling and coping.
While the plaster may be the most important aspect, tiling and coping can really round out your poolscape and give it a cohesive look. With such a wide range of options available today, you'll be sure to find the right combination of tiling and coping for your backyard. Here are some of the choices you have for premium-quality tiling and coping:
Tile sizes – The right-sized tile for you depends on your budget, as well as the amount of maintenance you feel comfortable taking on. Larger tiles are more expensive, but require less maintenance than smaller, less expensive tiles. Potential tile sizes include 6×6, 3×3, 2×2, and 1×1.
Tile materials – There are a variety of materials you can choose for your tiles, including porcelain, glass, ceramic, mosaic, and stone. Porcelain and glass are two of the most popular and reliable materials, since they're incredibly durable and frost resistant. Your choice will come down to both questions of aesthetics and functionality.
Coping materials – There are also numerous options for coping materials. Brick coping is the most common, and for good reason – it's a classic look that simply never goes out of style. Other popular choices include bluestone, travertine, natural stone, and granite blue coping. Your choice of coping material is mostly an aesthetic one, and will come down to your personal preferences.
Finding the right combination of tiling and coping for you is important, since this decision will impact your pool for years to come. The best way to weigh the pros and cons of each is to consult an expert on pool renovations in Bethlehem.
Contact Coronado's for Bethlehem Pool Renovations Today!
For over 20 years, the team at Coronado's has been offering our professional expertise to help families plan and complete pool renovations in Bethlehem. Our team of experts can help you to choose the right materials for your plaster finish, tiling, coping, and more. We take pride in getting the job done right the first time, and want to make sure you're satisfied with your renovations so you can enjoy them for the next 10-20 years or more. Contact us today for an in-person consultation. We look forward to hearing from you!