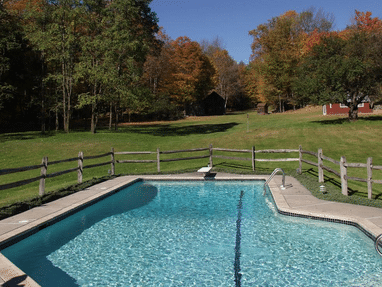 Your own pool can be one of the most valuable additions you make to your backyard. It provides countless hours of entertainment, relaxation, and bonding experiences with family and friends. But a backyard pool is also an investment. It requires hours of maintenance each year, and eventually you will need to consider Main Line pool renovations. This is simply a fact of life, and applies to everyone, regardless of how well-maintained your pool may be.
When you've started to notice signs of deterioration and wear-and-tear affecting your pool, it's time to contact a reliable team for pool renovations on the Main Line. At Coronado's, we have experience in the full spectrum of pool renovations, including all of the following areas:
Plaster – We have experience in replacing pool plaster for both commercial and residential pools. We offer a variety of plaster options, including both white and grey – which can give your pool water either a light or dark effect. You also have several different name brand options, and our plasters from SGM, Diamond Brite, Durazzo and River Rock each come with a 10-year warranty. Our plaster process involves 3 steps. First, we give you a estimate and allow you to choose a sample. Next, we prep your pool by water-blasting it and treating it with an acid wash. Finally, we apply the plaster and any other extras you may have requested.
Tile – Finding the right tile can really help tie together your pool area and make everything more visually appealing. We offer a variety of sizes, materials, and name brands for tiling. Feel free to take a sample home in order to get a feel for how a particular tile will work with your specific pool area.
Coping – Like tiling, finding the right coping is an important part of building an aesthetically pleasing pool area. We offer brick coping (in many different colors and 3 different shapes), bluestone coping, and travertine coping. Each of these options provides different benefits. Our sales team will assist you in finding the right one for your pool, and also provide samples so that you can get a feel for which one may work best.
If it's time for you to update your backyard pool, it's important to find a company with experience handling all aspects of Main Line pool renovations. For over 20 years, Coronado's has been helping families in Pennsylvania and New Jersey renovate their pools and make them better than ever.
Contact Coronado's for Main Line Pool Renovations
If you'd like to renovate your pool and make it the pride of your backyard again, contact Coronado's via the information below:
Phone: (215) 723-5885
Email: jje@coronadospoolrenovations.com