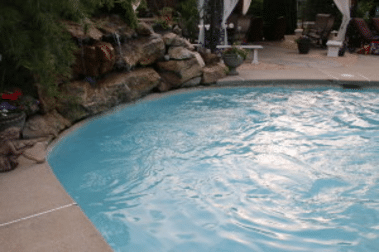 Anyone who's owned a pool for a significant amount of time knows how much work goes into it. Being a responsible pool owner means taking an active interest in your pool's wellbeing on a regular basis. While this entails daily upkeep during the warmer months of the year, it's equally important to properly prepare your pool for the off-season months. A proper winterization routine will help extend the life of your pool, delay the need for Ocean County pool renovations, and make it much easier to open once the weather warms up again.
If you haven't already winterized your pool, don't hesitate any longer. Here is a simple process for protecting the health of your pool during the coldest time of year:
Step 1: Balance the Chemistry – It's crucial to balance the pH, alkalinity, and calcium hardness of your water before shutting down for the winter. This will prevent corrosion and scale buildup. About five days before you shut down your pool, make the following adjustments: adjust pH to a level between 7.2 and 7.6, adjust alkalinity to 80-120 ppm (parts per million), adjust the calcium hardness to between 180-220 ppm.
Step 2: Shock the Water – First, kill any bacteria using extra-strong chlorine or a non-chlorine substitute. Next, fill up a five-gallon bucket with pool water and add the instructed amount of shock product (with at least 65% hypochlorite) before pouring it into the pool. Make sure to pour it away from the water outlets while the filtration system is running. After this, let your pool sit for a few days until the chlorine level returns to between 1 and 3 p.m.
Step 3: Add an extra-strength winterized algaecide – This will kill any existing algae in your pool, and ensure that you don't discover any more when you reopen in the spring or summer.
Step 4: Clean your pool – Remove all pool equipment, and clean, dry, and store it. Clean the surface using a skimming net, then follow up with a thorough vacuuming and brushing. Make sure to do this the same day you shut down.
Step 5: Lower the water level/drain equipment – Use a pool pump to lower the water level below the skimmer and water returns. If you have a mesh pool cover, lower it to between 12 and 18 inches. For solid covers, lower it down to between 3 and 6 inches. Next, drain your pumps, filters, heaters, and chlorinators. Make sure to clean the filters before storing them in a dry place. Use a vacuum to remove any moisture from the plumbing and prevent freezing/cracking.
Final Step: Cover your pool – Make sure to use a tight, well-fitted cover to prevent any debris from entering your pool.
Following all of these steps will help you get more years out of your pool before you need to consider Ocean County pool renovations again. When that time does come, contact Coronado's for unmatched variety for pool renovations both functional and cosmetic.