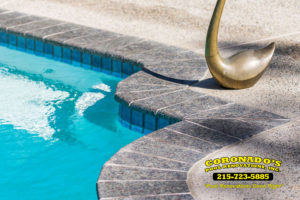 Swimming pool tile and coping is essential in creating an overall beautiful look, but it can be overwhelming to make these decisions when there are an almost limitless combination of options to choose from. The helpful crew at Coronado's has put together some tips to consider when choosing new tile & coping for your pool; we hope you'll take these into consideration and choose Coronado's for installation when it's time to redo your pool tile & coping!
Choosing your New Castle County Pool's Tile
Coronado's offers expert swimming pool tile & coping. When it comes to choosing a tile for your pool, the options can be overwhelming. Our staff is here to help; contact us any time for help during the process. The following steps should be taken when selecting new tile & coping for your pool:
Check out our video gallery to get an idea of what kind of tile & coping you like. An overview of finished pools with different combinations of tile & coping will help you to narrow down your choices. We encourage you to take the time to get an idea of what we have to offer to ensure you find the best fit for your pool!
Choose material type. With a wide variety of material options such as glass, ceramic, porcelain and stone for tiles, and brick, natural stone and travertine for coping, there is sure to be a material that will suit every taste.
Choose size of tiles & coping. From 1"x1" to 6"x6", choose small tile for a more intricate design or larger tiles for a bolder look.
Select a color palette for your new tile & coping. Earthy tones, rich reds or deep blues: your color preference is sure to be covered by the wide variety of hues we carry.
Call Coronado's to set up your appointment. Our staff is available for a consultation when you're ready to start planning your tile & coping renovation and to help make any final decisions you're having trouble with. We can provide samples in-person so you can get a feel for the materials.
Feel free to look over our tile & coping page to see more information about the types of services we offer and examples of projects we've worked on in the past.
Coronado's: Pool Experts in New Castle County
Our professional staff strives to ensure the end result of any project we take on is something that you, the pool owner, will love, and that we will be proud to have completed. With 25 years of experience, we guarantee our work is high-quality and take the utmost care to pay special attention to every detail of your pool.
Contact us if you need help with any kind of swimming pool tile & coping installation, repair, or with any other pool-related questions or concerns. Choose Coronado's and get started with a new pool tiling project today!