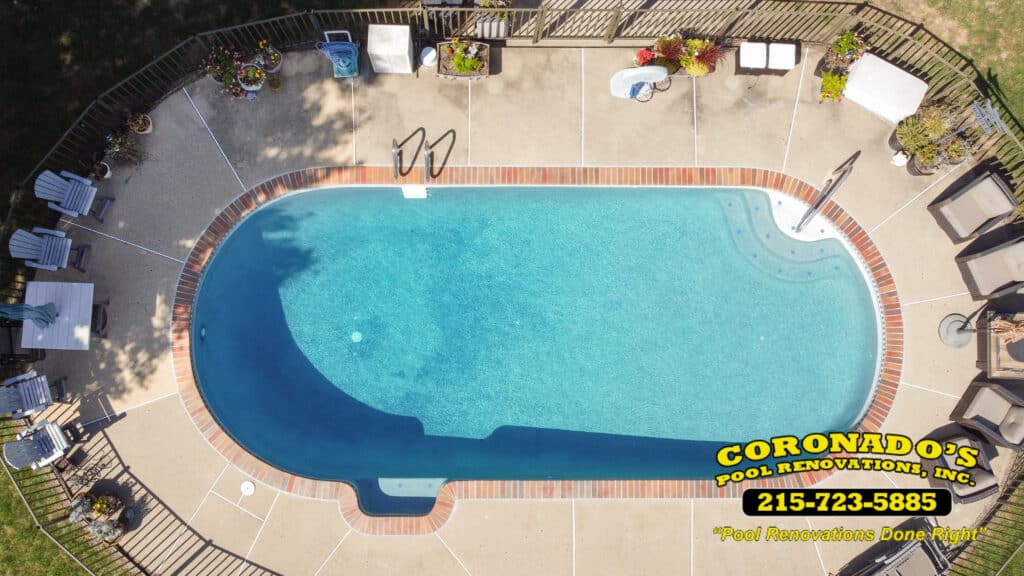 Coronado's Pool Plaster & Renovation Inc. has assembled a world-class team of the best plaster, tile, coping team in the Warminster, PA area! Each of our team members has years of experience and are certified applicators of some of the industries top Plaster Finishes! Our Plaster Team is committed to quality, craftsmanship and customer satisfaction.
StoneScapes Plaster Finish Warminster, PA
This swimming pool was replastered with StoneScapes Aqua Blue Plaster Finish. StoneScapes effortlessly brings together the perfect mix of beauty, durability, comfort and versatility. This formulated surface system combines science and nature to create an exceptional finish.
Natural Beauty: Create the serenity and gracefulness of a pebble-bottomed stream in your own backyard. StoneScapes' inviting and appealing colors and textures combine for a naturally harmonious look.
Durability: Stronger than conventional pool surfaces and easier to maintain, StoneScapes resists etching staining and wear, and comes with a limited warranty.
Versatile: StoneScapes is an ideal finish for a new pool or spa, and can also be used to resurface existing ones. This excellent finish blends will with water features and virtually any backyard landscape design.
Comfort: The wonderful texture of StoneScapes is easy on feet and hands, and gives your pool a naturally textured finish
We constantly test and train our crews on new products released by the manufacturers, and have perfected how we mix plaster with aggregates so the customer achieves their desired water color.
We specialize in residential pool plaster projects and work to meet the needs of pool owners in the Warminster, PA and the nearby areas.
Pool Plaster Finish: StoneScapes Aqua Blue
Tile: Brown/Bone Listello Series
Coping: Brick Coping Autumn Leaves