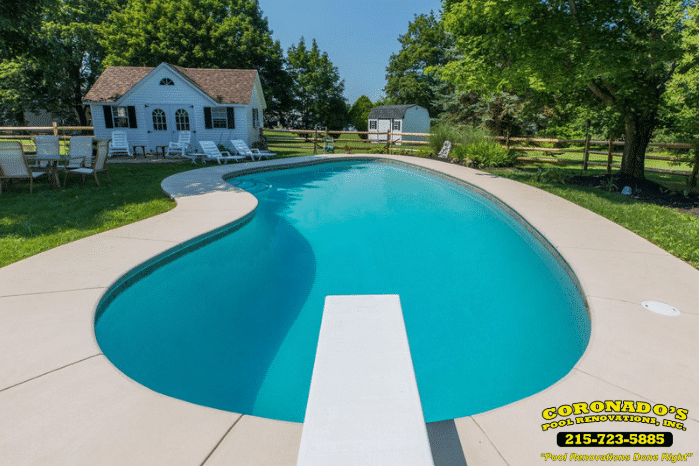 If you own a pool with an interior made of plaster, it's not uncommon for the pool to require swimming pool plaster repair. This is a project that requires a lot of prep work and should only be performed by an experienced swimming pool repair company, such as the team at Coronado's Pool Renovations. Let's take a look at how to properly prepare a pool for plaster repair in today's post.
Draining the Swimming Pool
The first thing that needs to be done is draining the swimming pool. This should only be done when the water table is not high. For example, it can't be done after a recent heavy rain or massive snow melt. If the water table is too high, you won't be able to keep water out of the pool enough to make the repairs to the plaster. When emptying the pool, make sure to remove the hydrostatic relief valve and control the ground water around the pool with the sump well. If you do not have a sump well installed near your pool, you will want to call in an expert to determine if the repairs can be made.
Identifying Areas of Needed Repair
The next step in preparing your swimming pool for plaster repair is identifying the areas of needed repair. This is best done using a carpenters pencil to mark every single area of plaster that needs to be fixed. Outlining all areas that need to be repaired with a pencil makes it easier to see the spots when looking at the empty pool when the sun is shining. This will help prevent you from missing any trouble spots.
Contact Coronado's Pool Renovations for Swimming Pool Plaster Repair
Once you have emptied the pool, controlled the ground water around the pool, and marked all of the areas that need to be repaired, you can contact an experienced pool repair company. The team at Coronado's Pool Renovations in Telford, PA has more than 26 years of experience when it comes to repairing plaster swimming pools. Call the office at 215-723-5885 at your convenience to schedule an appointment for swimming pool plaster repair.