Looking for a pool renovation contractor in Doylestown PA? Look no further than Coronado's Pool Renovations!
When you own, or are responsible for maintaining a swimming pool, whether it is residential, commercial or municipal, a renovation is going to eventually be needed. Even the best plastering products formulated for underwater use will inevitably develop cracks and fissures. This is especially true of outdoor pools, which around Pennsylvania and nearby New Jersey, face very chilly winters which will cause cycles of contraction and expansion that eventually compromise any plastered surface.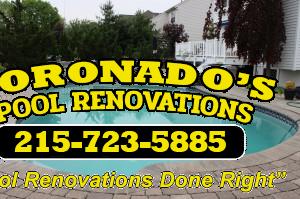 Even if your swimming pool plaster remains in relatively good structural condition, it may be worn dangerously smooth on the surface of the steps, creating a liability concern. Every plaster product available has some level of texturing to it and plaster that has worn smooth is a common condition that calls for a swimming pool renovation.
A swimming pool renovation, like most long term maintenance tasks, such as roofing, is not something where you have a preferred contractor already picked out. Let's face it, you don't think about plasterers until you actually need the services of one.
Picking a contractor to renovate a swimming pool?
The first thing to look for is expertise. There are contractors out there who will do your ceilings, or plaster the lath or plasterboard walls of an older home, but precious few plastering firms out there specialize in swimming pool renovations. Believe it or not, at Coronado's Pool Renovations Inc., we usually work with any one of 11 different pool plastering products selected for use by our customers. Though most of them have very similar application procedures, it is knowing the differences and the best product choice for a desired effect that can't be duplicated by the non-expert. Having renovated scores of swimming pools in Pennsylvania and New Jersey, we know what works.
That insight is born of experience. Jose Coronado, the owner, has over 25 years of experience in pool plastering and renovation. He has owned and operated the company that bears his name for over 10 years and maintains contractor licenses in both Pennsylvania and New Jersey. Each of his employees has undergone a thorough mentoring process to conform to the best practice guidelines of the National Plasterers Council and the Association of Pool & Spa Professionals.
If you are in need of a consultation for a swimming pool renovation, please contact us. Or fill out the form below!