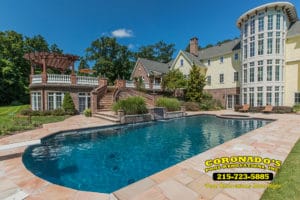 ​
Like many pool owners, at some point you may find yourself asking "what is swimming pool self leveling sealant?" Self leveling sealant, or caulk, is used during the process of plastering a pool. The sealant is applied by professionals after plastering is complete, if needed, between the coping and the expansion joint of the pool. The sealant helps to keep debris out of the expansion joint (the expansion joint is what keeps your pool and the deck separate, crucial to prevent cement and tiling from cracking during periods of expansion and contraction). The self leveling sealant allows the material on either side to move without causing serious damage.
Pool professionals like those at Coronado's Pool Renovations are a great resource for knowledgeable tips and advice on pool maintenance and ownership. Our extensive offering of services and dedication to providing the best in pool design make us a perfect choice to complete your pool projects and answer your questions.
​Swimming Pool Self Leveling Sealant & More
In addition to professional application of self leveling sealant, Coronado's Pool Renovations offers all the pool services you'd expect from a top-rated pool contractor. When it comes to pool renovations, the possibilities are endless. Choosing a new finish or tiling alone opens your options to countless combinations of designs, material and colors. If you're content with the overall look of your pool but minor repairs (like fixing cracked tiling) or deep cleanings could be the pool makeover you need, count on Coronado's to help! Our services include, but aren't limited to:
Professional Cleaning: Acid washes and chemical stain removal & prevention are popular choices for achieving your pool's cleanest, like-new look. Increase the safety of your pool while improving its appearance with a professional cleaning.
​Tile & Coping Repair​​​: ​Coronado's are experts in repairing damage and matching tile to create flawless-looking pools.
Refinishing Projects​: ​Overhaul your swimming pool by completely refinishing! This is a great way to make it feel like you've installed a brand new pool. Choose from numerous beautiful and long-lasting pool finishes like those offered by SGM and CL Industries.
The staff at Coronado's are here to help with all of your pool projects. For more information about the services we offer, advice on caring for your pool, or for answers to questions like what self leveling sealant is for, contact Coronado's!
​Pool Renovations for Bucks County and Beyond
Coronado's Pool Renovations has been a family-owned and -operated business for over 25 years. During that time we've worked hard to complete beautiful and lasting pool renovations across the states of Pennsylvania and New Jersey. To get started with your pool renovation, schedule a free in-person consultation with a professional from Coronado's today.
Contact Information:
Phone: (215) 723-5885
Email: jje@coronadospoolplaster.com