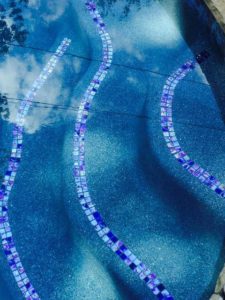 Are you looking for new and innovative swimming pool project ideas for your home? You can design your swimming pool and outdoor space to fit any style. Pool finishes and tile/coping comes in an endless array of colors and textures, so you can find exactly what you want when you talk to our experts. For inspiration, look no further than these three ideas from Coronado's Pool Renovations, Inc. These ideas can be accomplished at any home in Pennsylvania. Be sure to speak with one of our experienced team members about your vision.
Fire Features
Would you enjoy going for a swim and then relaxing around a campfire in your very own backyard? Adding fire features to your pool area, such as tiki torches, a fireplace, or a fire pit, can transform your outdoor space and provide additional enjoyment year-round. Now you can have the best of both worlds.
Relaxation in Nature
Have you ever wanted a pool that blends in with nature? If you're seeking a more "natural" look for your outdoor space, you're sure to find what you're looking for among our many available pool finishes and tile/coping styles. We can refinish your pool to match your rustic or natural decor, so you won't have to go far to find your perfect outdoor escape or enjoy your own personal "lake."
Tropical Lagoon
If you have vacationed in the tropics, you may have had the opportunity to swim in a beautiful lagoon. We can help you replicate that experience at home with a colorful pool finish that matches your tropical style. Add tropical plants, natural stones, and even a fountain or waterfall to the area and you can feel as though you're on vacation again in your very own backyard. Don't forget the pina coladas!
Call Coronado's Pool Renovations Today for Swimming Pool Project Ideas
Are you ready to move forward with one of the amazing projects mentioned above? Do you need more inspiration? Either way, it's time to call the experienced and trusted pool contractors from Coronado's Pool Renovations, Inc. at 215-723-5885 to schedule a consultation about your project.