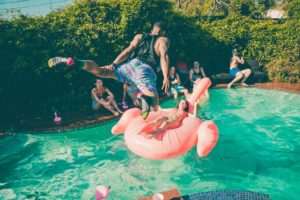 The Fourth of July is almost upon us. What can you do to celebrate this summer holiday? Throw a pool party, of course! When you perform as many commercial swimming pool renovations as we do at Coronado's, you start to dream up ways to make the most of your pool. Here are some of our tips for making your pool party the best bash on the block this Independence Day:
Food: Grill, baby grill! A backyard barbeque is the natural accompaniment to a pool party. Burgers and dogs are always great, but consider changing up the menu: kebabs are easy, delicious and almost infinitely customizable. And don't forget dessert! You can grill everything from pineapple to donuts to entire tarts and pies.
Music: No pool party is complete without the perfect summer soundtrack. Think the Beach Boys, Jack Johnson, Jimmy Buffet, and other chilled out, beachy hits. Feeling something more upbeat and contemporary? Try out some tropical house jams from producers like Kygo and Thomas Jack, or enjoy the surf-rock charms of artists like Best Coast and Surfer Blood.
Games: There are lots of fun games you can play in the pool that kids of all ages will enjoy. Your guests are probably familiar with traditional pool games like Marco Polo. But have they ever played sharks and minnows or watermelon ball? From the classic to the creative, there are endless ways to have a good time in the pool.
A Coronado's Renovated Pool: When you throw a pool party, you want your swimming pool to looks its best. When you hire Coronado's to perform commercial swimming pool renovations, you'll be proud to show off your pool to your friends and family. Our amazing finishes, like the naturally pebbled River Rok to the glamorous Hydrazzo polished marble, will truly take your pool to the next level.
Coronado's: The Commercial Swimming Pool Renovation Experts
Coronado's Pool Renovations is a family-owned and -operated business that has been in the pool renovation industry for over twenty years. Owner Jose Coronado mentors all of our employees, so they're trained to the highest standards. Furthermore, Coronado's is a certified member of the National Plaster's Council and the Association of Pool & Spa Professionals.
Want to learn more about how the commercial swimming pool renovation team at Coronado's can transform your pool?  Give us a call at (215) 723-5885 or contact us online to arrange your free in-person consultation.