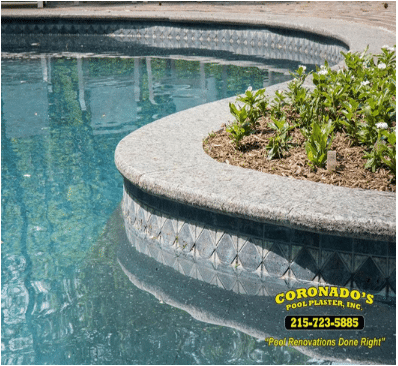 Picture your dream pool in your mind: the ideal shape and size for your yard, colors and materials all in harmony. Do you see colorful tiles on the floor–a decorative border? What about the raised edge of the pool–the coping?
There are a lot of variables to consider when designing your pool. Thankfully, Coronado's Pool and Plaster is here for you with 25 years of experience in Delaware County Pool design and renovation. We can guide you through the process of turning your dream pool into a beautiful and valuable reality, starting with the perfect tiles and coping.
The Perfect Tile for your Pool Design
Tile is the ideal material for finishing your pool. It's more durable and beautiful than the usual plaster, with infinite color and materials combinations—and also commensurately more expensive. But even if tiling your entire pool is beyond your budget, that doesn't mean you can't have an attractive border, tile accents, or even a mosaic. There are many options to choose from, but our team will walk you through all the possibilities. Basically, if you can imagine it, we can do it.
When laying the tile for your pool, we do more than simply glue the pieces in place. We carefully consider the shape of your pool to ensure the tiles don't stress each other–we want your pool to endure, as well as look its best. This is where our extensive experience in Delaware County pool renovation comes into play.
What is Coping? Why Is It Needed for Your Pool Design?
In this context, coping means something quite different from "dealing with something difficult." It's the raised surface that lines the edge of your pool, and it's more than just decorative:
Protects your pool from the pressure of the deck surrounding it. Without properly laid coping, your Delaware County pool could crack.
Prevents water from slopping over the edge of your pool.
Provides added traction, and can prevent swimmers from slipping in or make it easier to get out of the pool.
Coping can be made from brick, poured concrete, or stone. Brick is popular because it comes in myriad colors, but the varieties of stone have their advantages for a Delaware County pool renovation. See our website for more details on shapes and types of coping.
The Details
A professional tiling and/or coping job will take at least a few days. Most owners choose to have both installed at once to save expense and minimize the disruption of their property. If properly installed and maintained, tiles should last at least fifteen to twenty years. While subject to different stresses than a tile finish, a coping job done right by an experienced Delaware County Pool renovation company ought to last the lifetime of the pool—or at least until you're ready to redesign it!
Coronado's Pools and Plaster is registered with the Better Business Bureau, and certified by the National Plasters Council. If you choose to let us help you realize your pool project, we promise to provide you with the ultimate in professional service, no matter the size of the job. Contact us today for a consultation.