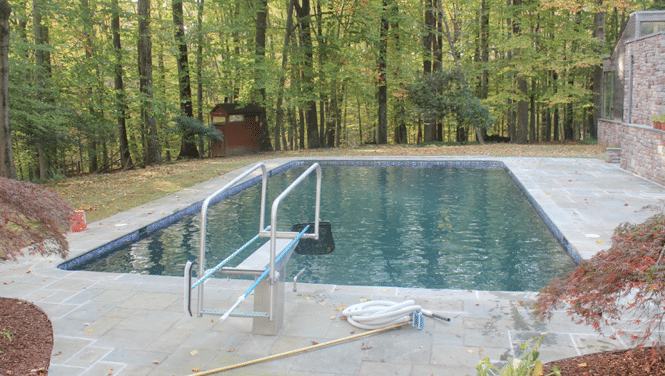 If you haven't closed your pool yet, we understand why. We're holding on to the vestiges of summer as long we can, too! But when the days grow colder and the leaves start falling, it's time to close up shop and protect your pool from the oncoming debris and freezing temperatures. The New Castle County pool renovation team at Coronado's has gathered some tips to properly conduct your pool-closing ceremony so that next summer you can be ready to dive in as soon as possible! Here's what you can do:
Balance pool water chemistry. Before you put a cover on your pool, take time to measure pH levels, alkalinity, and chlorination, and adjust it to recommended levels. This will protect your pool from scale buildup and corrosion.
Vacuum, brush, and skim your pool. Removing all the debris in your pool prior to closing will help prevent algae growth. You'll be glad you did this come springtime!
Adjust the water level. Freezing water expands with an intense force, and it can damage pipes, pumps, and filters, so drain the pool water down below the skimmer mouth to prevent costly damage.
Clean the filter. Remove filter hoses, spray the cartridge filter with filter cleaner, and then rinse it off. Open the drain at the bottom of the filter and let out any water that may be in the outlet, and if there's an air relief valve, open it up. Then put the multiport valve in the closed position, and remove the pressure gauge.
Add an air pillow. Place a flotation device – something as simple as an air pillow – in the center of your pool to balance rainwater and ice that is bound to accumulate on the cover. This pillow will ease the pressure on the pool walls.
Cover. Install a winter cover, safety cover, or leaf net to keep your pool clean, uncontaminated, and safe from the elements.
Store pool materials. Make sure everything is out of the pool and stored in your shed or garage.
Dream about next summer!
Now that you've closed your pool for the cold months ahead, you can feel good about protecting your investment and securing the quality and longevity of your pool. If you want more tips about closing your pool, or if you have any renovation needs that you'd like to complete before next summer, you can contact the New Castle County pool renovation experts at Coronado's Pool Plaster. We provide top-quality plaster finishes, coping, tiling, and a variety of cleaning procedures and renovation services to create the pool of your dreams. Call us today at (215) 723-5885 or fill out our contact form to learn more!