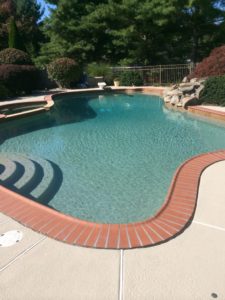 The recent arrival of spring might have you starting to daydream about relaxing by the pool come warmer weather. If this applies to you, now is the perfect time to make updates to your pool to have it refreshed and refined for a new swim season! Refinishing your swimming pool may be just the thing for a new, clean look. When it comes to pool finishes, there are many options. River Rok is one such finish that Coronado's Pool Renovations specializes in installing. River Rok boasts a widely varied color selection as well as durability and requires comparatively little installation time, so your pool will be ready for enjoyment in no time!
Advantages to Choosing River Rok for Your Bethlehem Pool
There are many components of the River Rok finish that make it an overall smart choice for pool owners. Stand-out features that make River Rok a great finish option for your Bethlehem area pool include:
Bold & Numerous Color Options: River Rok swimming pool finish is available in a very wide range of colors.  Options include: minty green "Aspen Mist," deep blue with flecks of gold found in "Baha Sand," and the natural sand hues found in "Pebble Beach." With diverse options such as these, there is truly something for everyone.
Tough, Resistant Material: The cement & pebbles that make up the formula for this finish are specifically designed for durability and comfort. The pebbles in this finish have been pre-selected and are naturally tumbled until perfectly smooth. The perfectly rounded texture of the pebbles make for a comfortable pool area surface, gentle on bare feet.
Fast Process: The unique mixture of cement and other components of this finish make its installation a quick process; River Rok can be applied in one day, saving on installation costs.
River Rok is a fine finish that will improve the look and feel of your swimming pool. Perfect for backyard residential pools and commercial pools alike, this is a finish that everyone will love.
Coronado's: Bethlehem Pool Finish Experts
For the best in swimming pool finish application services in Bethlehem and surrounding PA and NJ areas, count on Coronado's Pool Renovations. We offer numerous other services as well, such as swimming pool acid washes and various pool repairs. Dial (215) 723-5885 to speak to a member of our staff over the phone. You may also send us an email at jje@coronadospoolplaster.com. We look forward to helping refinish your swimming pool and preparing your pool for a new swim season!