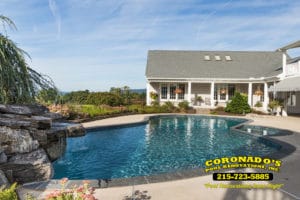 When your pool starts to show signs of wear, it's time to think about swimming pool repairs and renovations. Even small, simple repairs such as repairing cracked or broken tile can make a world of difference when it comes to the appearance and attractiveness of your pool. If you want to update the look of your pool but have a budget that doesn't allow for total renovation, Coronado's can help. Minor repairs are easy on the wallet and will make your pool look like new again. From swimming pool resurfacing to tile repair, our crew will find the right solution for you and your pool.
Options for Swimming Pool Renovation in Burlington County
Whether you want to make small fixes to your pool or take on a full renovation job, you've got options. Coronado's offers a full range of swimming pool repair choices, with options to fix various problems for every budget:
Swimming pool tile repair: For minor damages, such as cracked pool tile, consider choosing tile repair. Coronado's team are experts at repairs.
New tile & coping: Updating your tile & coping can modernize your pool and completely change its look. Our guide to choosing tile & coping will help with the process. Feel free to reach out to a member of our staff with any questions.
Acid wash: For a brand-new clean look, an acid wash is a great choice. A fast, easy & safe procedure, an acid wash will remove all algae buildup, refreshing your pool.
To keep your pool in pristine condition year-round, it's important to practice proper care for your pool. Our guide to keeping your pool clean is useful in maintaining the cleanliness of your pool, preventing algae and other unsightly buildup. With small repairs or major redesign and proper care, any pool can become and remain a place for you to enjoy for years to come.
Coronado's for Expert Burlington County Pool Repair
Coronado's Pool Renovations is a company known for our workmanship and professionalism. Even the smallest of jobs receives our full attention–we take pride in each and every pool repair job we take on. Our special renovation process is tested and proven to be effective and efficient. Beautifying pools is our business, and we've been doing it for over 25 years. Certified member of the National Plasters Council and member of the Association of Pool & Spa Professionals, we're trusted experts that take our work seriously.
Contact us today to start planning your pool repairs and take active steps towards turning your pool into one that you love to be around and swim in.
Phone: (215) 723-5885
Email: jje@coronadospoolrenovations.com